"

…The clock has an excellent feature set that is extremely flexible for our multi room facility."

Mike Crossey is now based between Los Angeles and the prestigious Livingston Studios in London, arguably the highest spec studio in the UK. He is currently working with Josh Record, Nina Nesbitt, and Imelda May. Mike has produced a string of recent hits with artist Jake Bugg, Tribes, Two Door Cinema Club, and previously has worked with Arctic Monkeys, Black Keys, Keane, Foals, The Kooks, Razorlight, and The Enemy

El reloj maestro con el mejor sonido
Un reloj maestro que destaca por encima de todos
En el volátil mundo de los formatos de audio y video, Trinity es el reloj maestro que destaca por encima de todos, y que ofrece funciones con las que otros solo pueden soñar. Trinity es el mejor y más versátil reloj maestro que existe en el mundo, gracias a sus funciones y controles específicos.
Trinity está instalado en alguno de los estudios de audio y posproducción más conocidos del mundo y se encuentra en la base de un gran porcentaje de producciones contemporáneas de música y cine. Trinity forma también parte integrante de algunos de los directos y eventos más grandes que tienen lugar hoy en día.
SINCRONIZACIÓN ACÚSTICAMENTE ENFOCADA con DSP DE 64-BIT
Nuevos detalles gracias a la 4ª generación de sincronización acústicamente enfocada con procesador DSP de 64-bit
sincronización máxima
Jitter (Aleteo) extremadamente bajo gracias a nuestro oscilador de cristal controlado por horno, o sincronización a través de la entrada atómica
FRECUENCIA DE MUESTREO DE 384 KHZ
Frecuencia de muestreo de hasta 384 kHz, con 3 generadores de audio independientes y simultáneos y 3 canales de audio independientes
el siguiente nivel de perfección
Gestión de jitter avanzada y sincronización estable
Impulsado con la tecnología ultra estable del oscilador de cristal controlado por horno, el diseño completamente nuevo del motor de tiempo del Trinity con sincronización acústicamente enfocada de 64-bits de 4ª generación, proporciona un jitter (aleteo) espectacularmente bajo y una gran estabilidad, que se distingue por aportar mejoras sonoras apreciables desde el primer momento.
Una entrada atómica hace que sea el complemento perfecto del reloj atómico 10M, y la posibilidad de calibración más la alimentación dual redundante, hacen que la unidad funcione sin falta, y evita tiempos de inactividad costosos.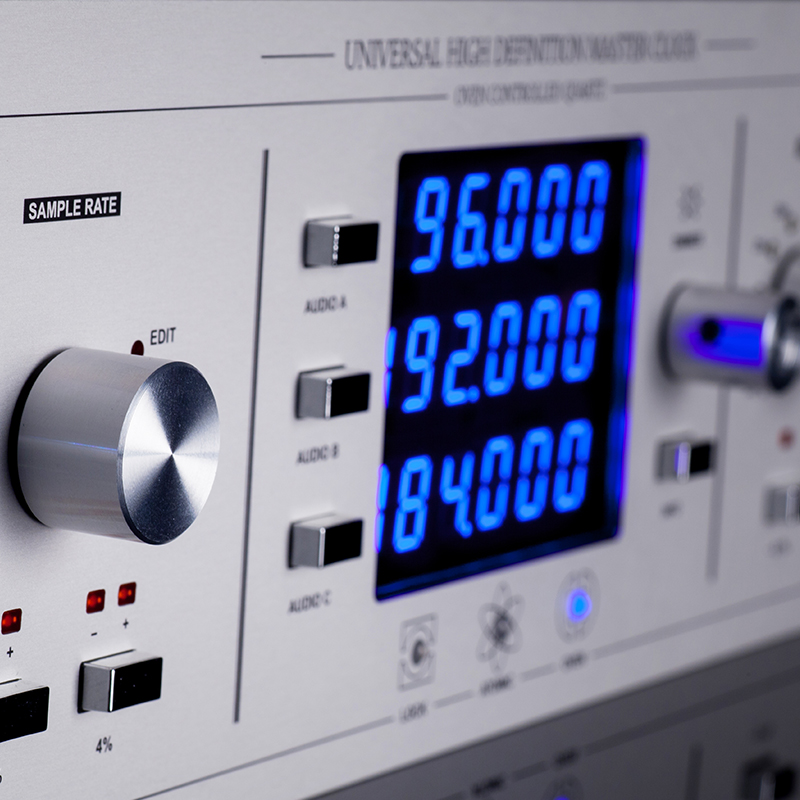 "

…I've tried many different permutations of clocking systems and have had varied results which left me unsure whether there was anything to be gained from a stable external clock. Having used the Antelope 10M and Trinity I can safely say the difference was truly staggering!"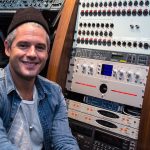 Paul Epworth is one of the most influential British producer of his generation. His recent production roll-call reads like a must-have list for right-minded music fans: Adele's '21', Florence + The Machine's 'Ceremonials' and 'Lungs', The Big Pink's 'Brief History Of Love' and 'Future This', Foster The People 'Torches', Cee-Lo Green's 'The Lady Killer', Friendly Fires's 'Pala', Plan B's 'The Defamation Of Strickland Banks'…
más profesional imposible
Las características que lo hacen único
Trinity cubre necesidades que por lo general requieren de varias unidades. Sus 3 generadores HD y 2 SD reconocen y generan todos los formatos de video existentes, y al mismo tiempo proporcionan 3 canales de audio independientes de hasta 384 kHz, con ajuste de velocidad en centésimas o porcentaje.
Toda esta variedad de conexiones, flexibilidad y facilidad de uso hacen que Trinity sea la pieza clave de cualquier estudio moderno.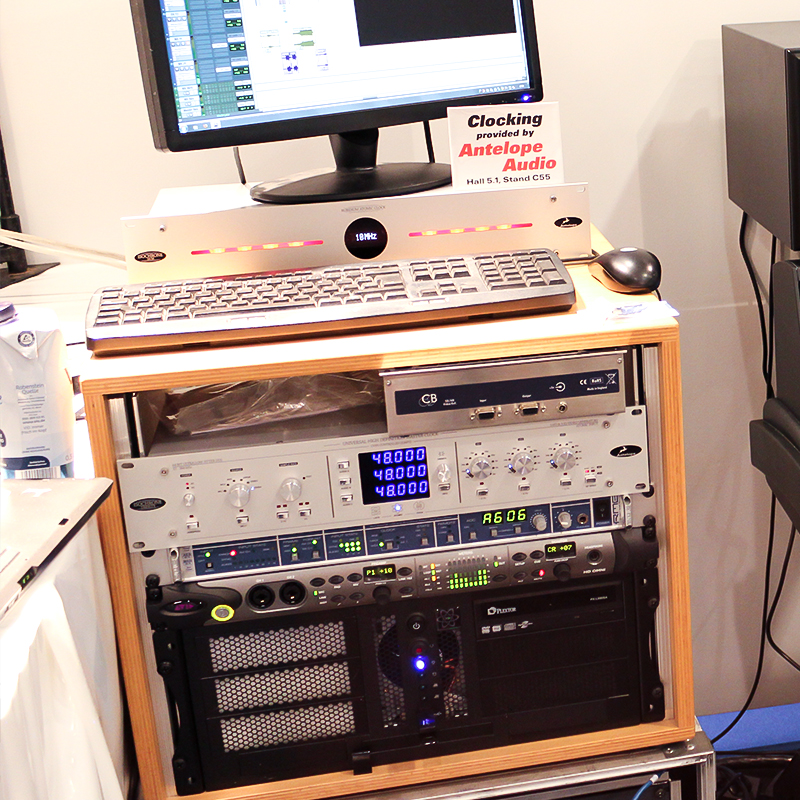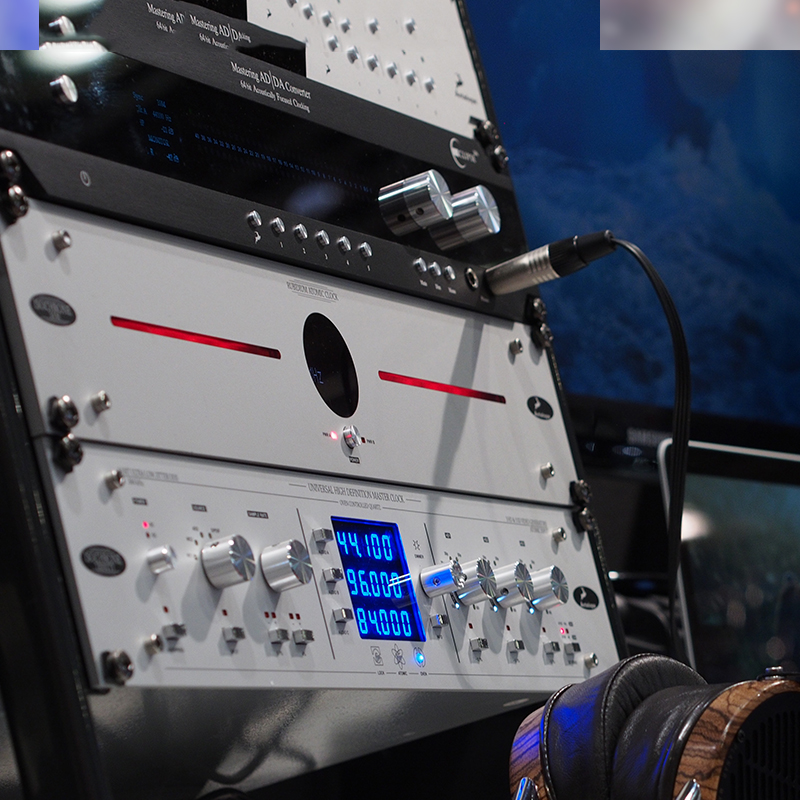 control de monitor sencillo
Adaptado para cualquier entorno
El control de monitor integrado usa atenuadores chapados en oro con una precisión de 0.05dB y proporciona funciones de cambio entre altavoces, gestión de bajos, mezcla de pistas y función talkback integrada.

el compañero favorito del 10M
El Trinity y el 10M van genial juntos
Puede que los hayas visto separados, pero normalmente donde está uno, el otro no anda lejos.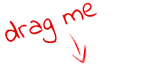 4th Generation Acoustically Focused Clocking
64 bit DDS
Oven Controlled Crystal Oscillator
< +/-0.02ppm @ 64.5°C
< 1 ppm per year
< +/-0.001 ppm
10MHz@1Vpp, BNC
Basic sampling rates (kHz)
32, 44.1, 48, 88.2, 96, 176.4, 192, 352.8, 384
9 Independent and simultaneous: 3 audio, 3 HD, 3 SD
+/-200 cents
+12.246%
-10,910%
+/- 0.1% NTSC and/or +/- 4% PAL
-0.1% HD
Universal video input on BNC.
Recognizes all video formats automatically
2 selectable Word Clock on BNC 32kHz – 384kHz
1 AES/EBU on XLR. 32kHz – 192kHz @110Ω terminated
1 S/PDIF on RCA. 32kHz – 192kHz @75Ω terminated
2.0 full-speed
HD Video 6xBNC @75Ω
SD 1 – BNC @75Ω fixed for NTSC video standard. Black Burst
SD 2 – BNC @75Ω fixed for PAL video standard. Black Burst
SD 3 – BNC @75Ω PAL 24/NTSC 30 selectable.Composite Sync
SD 4 – BNC @75Ω PAL 48/PAL 47.95 selectable. Composite Sync
Wordclock – 16 BNC, 3Vpp @ 75Ω
AES/EBU – 4 XLR @ 110Ω
S/PDIF – 4 RCA @ 75Ω
0-50°C, 32-122°F
4 kg / 8.8 lb
482 mm (W) × 89 mm (H) × 203 mm (D)
19'' (W) x 3.5'' (H) x 8'' (D)

Master clocks comparison table
10MX

LIVECLOCK

OCXHD

TRINITY

10M

10MX

LiveClock

OCXHD

TRINITY

10M

Atomic Reference Type

Rubidium Ultra-Stable Resonance Controlled
Master Oscillator
Rubidium Ultra-Stable Resonance Controlled
Master Oscillator

Clocking System

4th Generation Acoustically Focused Clocking
64-bit DDS
Oven Controlled Crystal Oscillator
4th Generation Acoustically Focused Clocking
64-bit DDS
Oven Controlled Crystal Oscillator
4th Generation Acoustically Focused Clocking
64-bit DDS
Oven Controlled Crystal Oscillator

Clock Stability

t=1s ≤3E-11
t=10s ≤1.6E-11
t=100s ≤8E-12
<+/- 0.02 ppm, oven controlled at 64.5°C/ 148.1°F
<+/- 0.02 ppm, oven controlled at 64.5 C/148.1 F
< +/-0.02ppm @ 64.5°C
Typical: 0.05 PPB per month (measured after 6 months of continuous operation)
First Year < 2 PPB

Clock Aging

Daily* ±2.5E-11
Monthly* ±1E-10
Yearly ±1E-9
(*After 1 day & 1 month of operation respectively)
< 1 ppm per year
< 1 ppm per year
< 1 ppm per year
Better than 0.02 PPB
Typical: 0.05 PPB per month (measured after 6 months
of continuous operation)
First Year < 2 PpB

Warm-Up Time

8 – 10 minutes (depends on ambient temperature)
8-10 minutes (depends on ambient temperature)

Inputs

1 x Word Clock Input @ 75 Ohms 3Vpp on BNC 44.1 – 384kHz

1x Word Clock up to 192kHz
1x Atomic Input
2x Word Clock Inputs up to 768kHz
1 x 10M Atomic Clock Input
1x Video Input accepting wide range of SD and HD video signals
2x S/PDIF Inputs up to 192kHz
1x AES/EBU Input up to 192kHz
2 selectable Word Clock on BNC 32kHz – 384kHz
1x Atomic Input
1x Universal video input on BNC.
1x AES/EBU on XLR. 32kHz – 192kHz @110Ω terminated
1x S/PDIF on RCA. 32kHz – 192kHz @75Ω terminated

Outputs

4 x Word Clock Outputs on BNC 44.1 – 768 kHz square wave signal
10 x BNC Sinusoidal, 10MHz, 75 Ohm, 1Vpp typical (unload)
2 x AES/EBU on XLR
2 x S/PDIF on RCA
4x Word Clock Outputs up to 192 kHz
2x AES/EBU Outputs up to 192 kHz
2x S/PDIF Outputs up to 192 kHz
10x Word Clock Outputs up to 768kHz
4x AES/EBU Outputs up to 192kHz
2x S/PDIF Outputs up to 192kHz
Wordclock – 16 BNC, 3Vpp @ 75Ω
6x HD Video BNC @75Ω
SD 1 – BNC @75Ω fixed for NTSC video standard. Black Burst
SD 2 – BNC @75Ω fixed for PAL video standard. Black Burst
SD 3 – BNC @75Ω PAL 24/NTSC 30 selectable.Composite Sync
SD 4 – BNC @75Ω PAL 48/PAL 47.95 selectable. Composite Sync
AES/EBU – 4 XLR @ 110Ω
S/PDIF – 4 RCA @ 75Ω
8 x Atomic Clock Output on BNC Sinusoidal, 70 Ohm, 1 Vpp typical (unload)

USB I/O

USB 2.0 Full-Speed, Type B, only for control
USB 2.0 Hi-Speed, Type B, only for control
1x USB Input for control
2.0 full-speed

Frequency & Accuracy

10 MHz, better than ±5E-11 @25C (±0.05 PPB)
10 MHz, better than 0.03 PPB

Sample Rates

32, 44.1, 48, 88.2, 96, 176.4, 192, 352.8, 384, 768 (kHz)
32, 44.1, 48, 88.2, 96, 176.4, 192 (kHz)
32, 44.1, 48, 88.2, 96, 176.4, 192, 352.8, 384 (kHz)
32, 44.1, 48, 88.2, 96, 176.4, 192, 352.8, 384 (kHz)
32, 44.1, 48, 88.2, 96, 176.4, 192 (kHz)

Power Supply

AC Universal Input ~100-240V, 15 Watts max.
DC Universal Input 12 – 18V, 6 Watts max.
AC Universal Input ~95-245V, 20 Watts max.
AC Universal Input ~90-250V, 15 Watts max.
AC & DC Dual Redundant ~100-240V; 12V, 40 Watts during start up / 17 Watts after warm up