Zen Studio+ viene con un arsenal cada vez más numeroso de efectos vintage basados en FPGA
Zen Studio+ viene con un arsenal cada vez más numeroso de efectos vintage basados en FPGA, que incluyen ecualizadores que imitan con precisión a los reales, compresores, amplis de guitarra y cajas acústicas. La clave del motor del Zen Studio+ es su chip FPGA personalizable. Esta tecnología propia hace que la interfaz sea mucho más rápida y potente que los dispositivos de la competencia.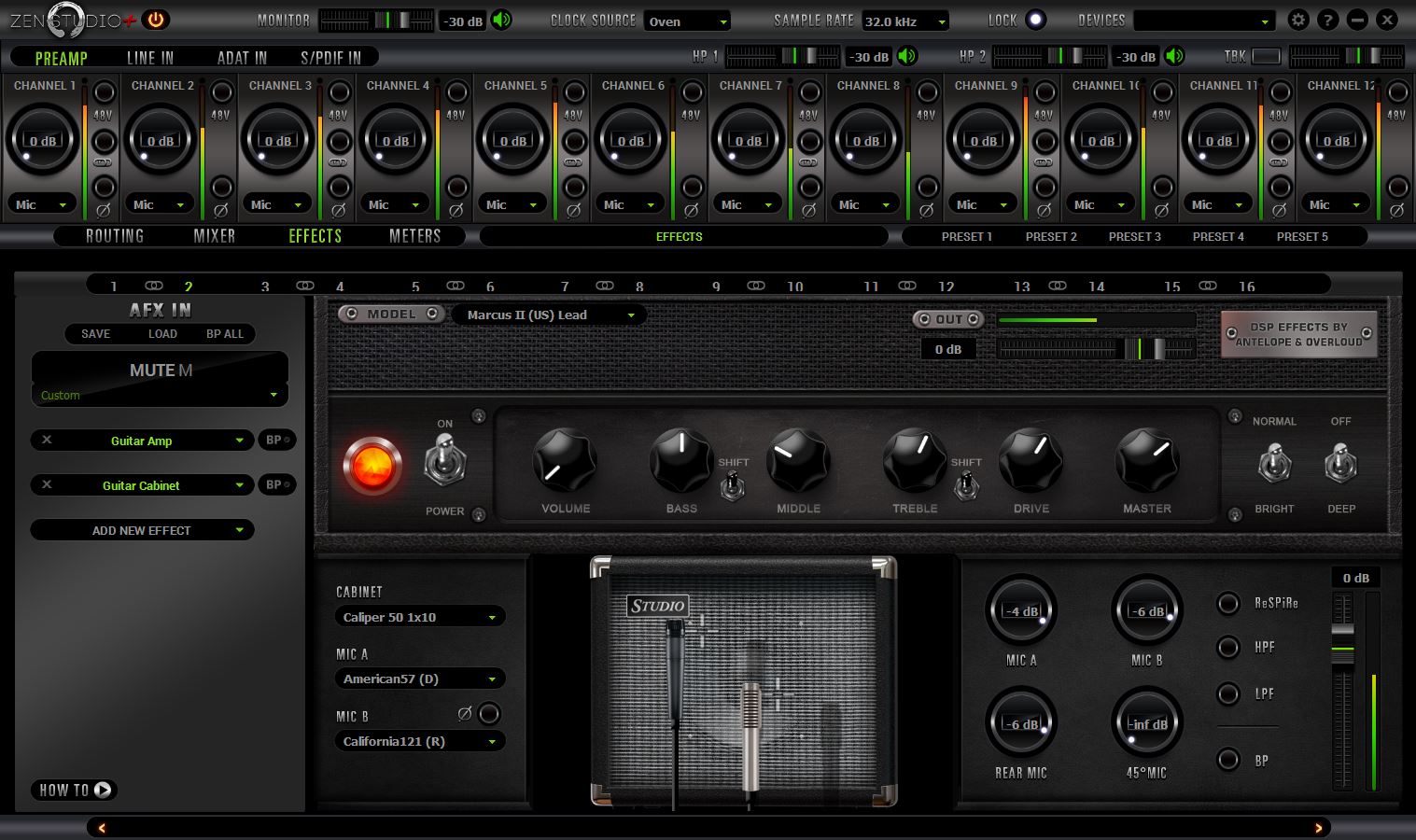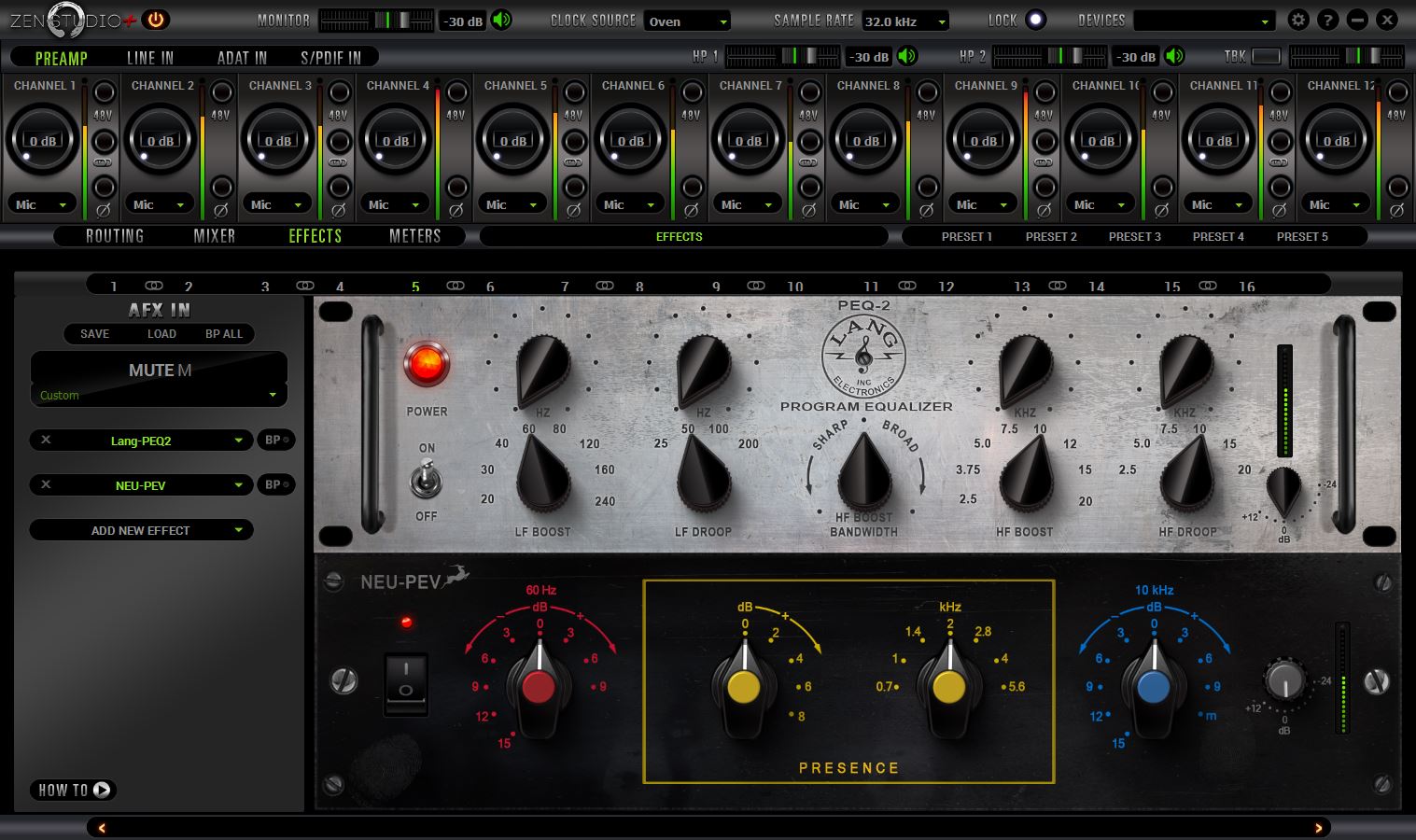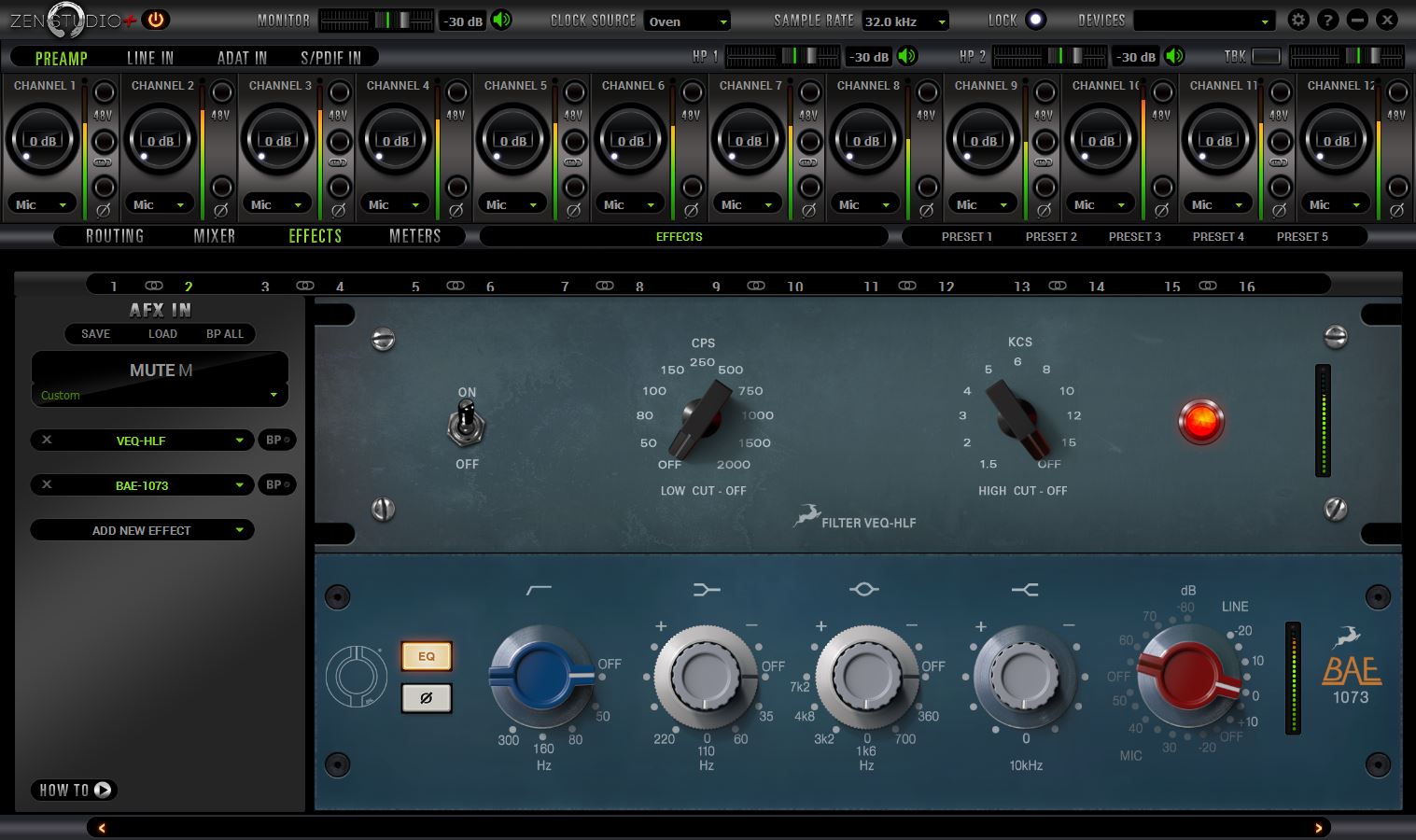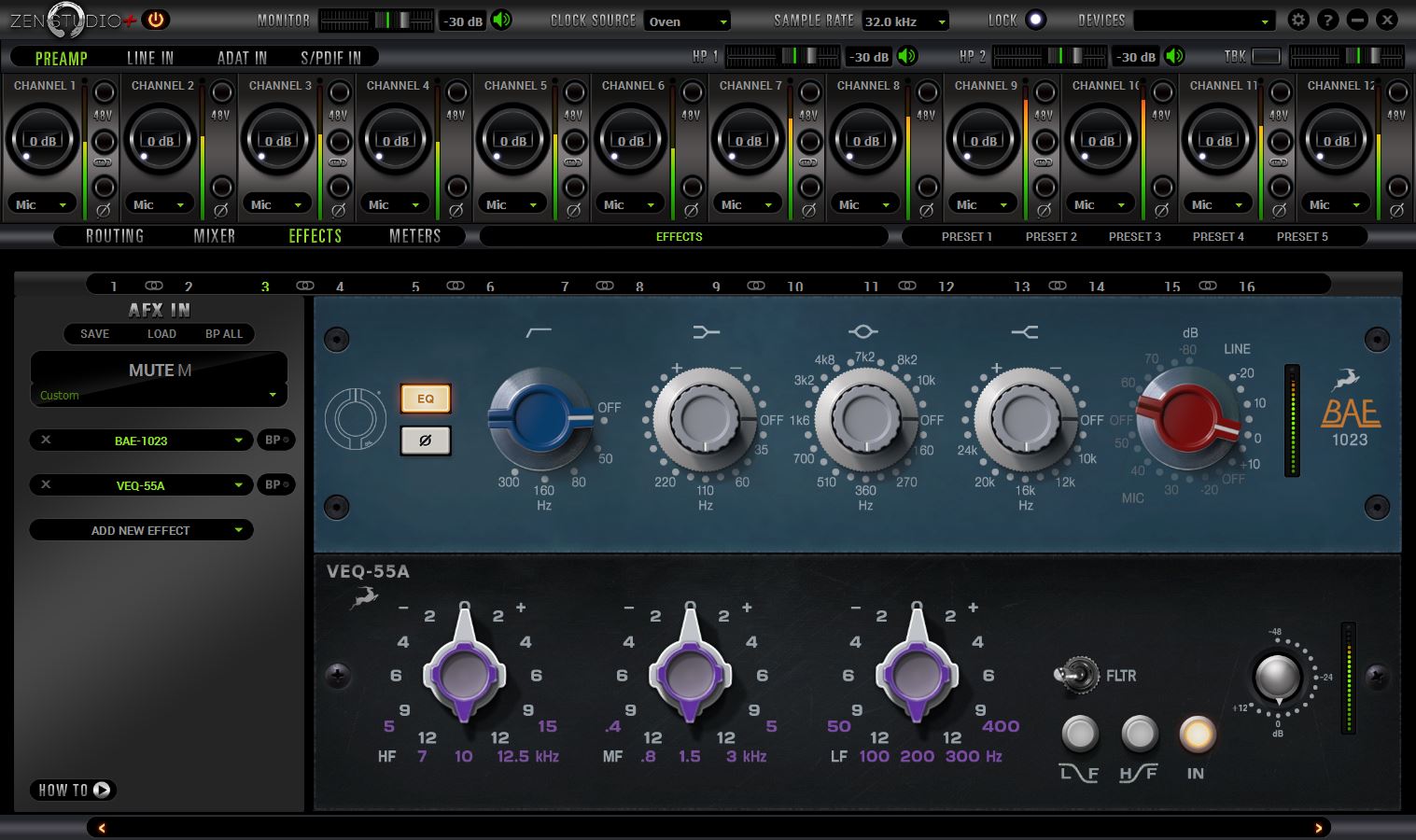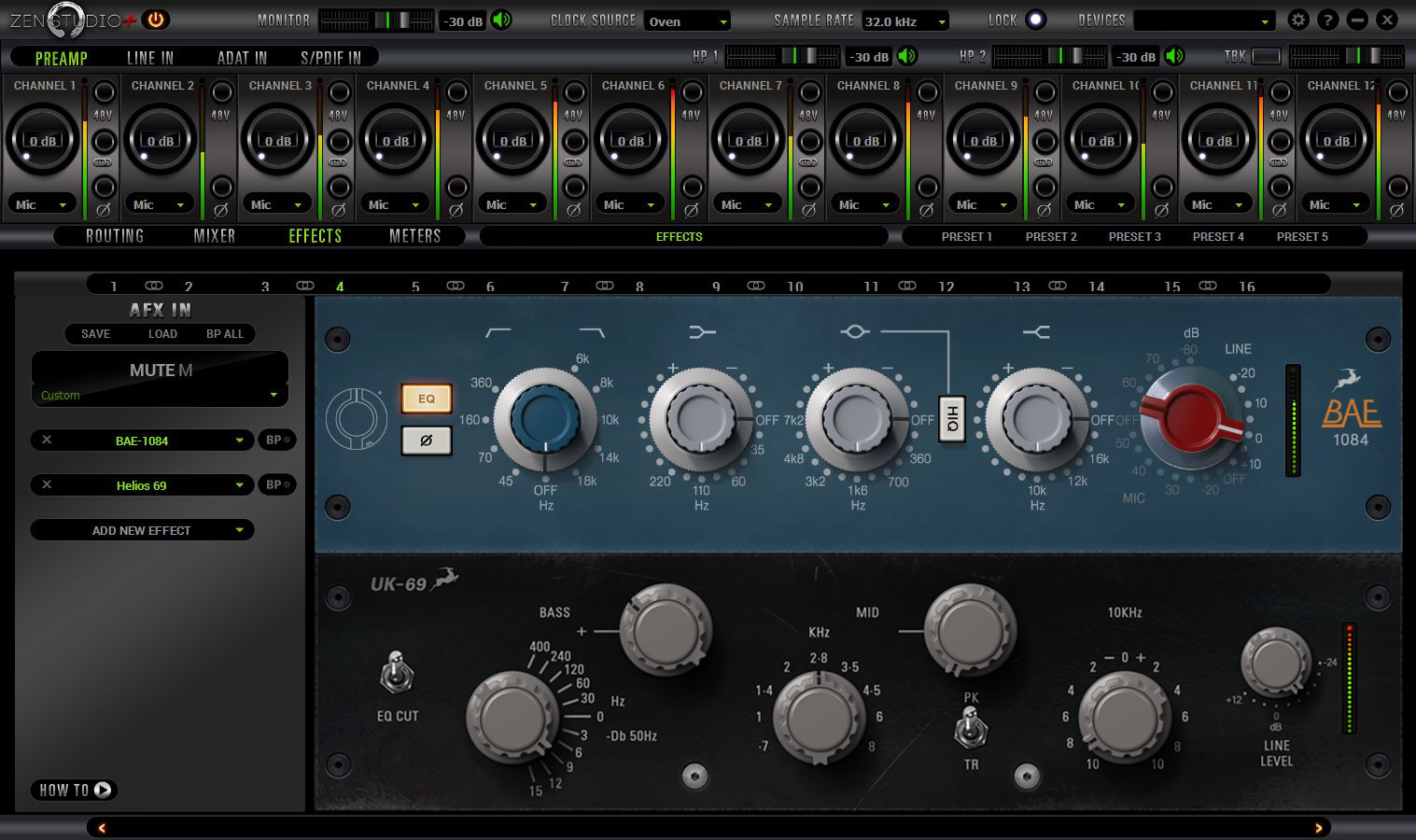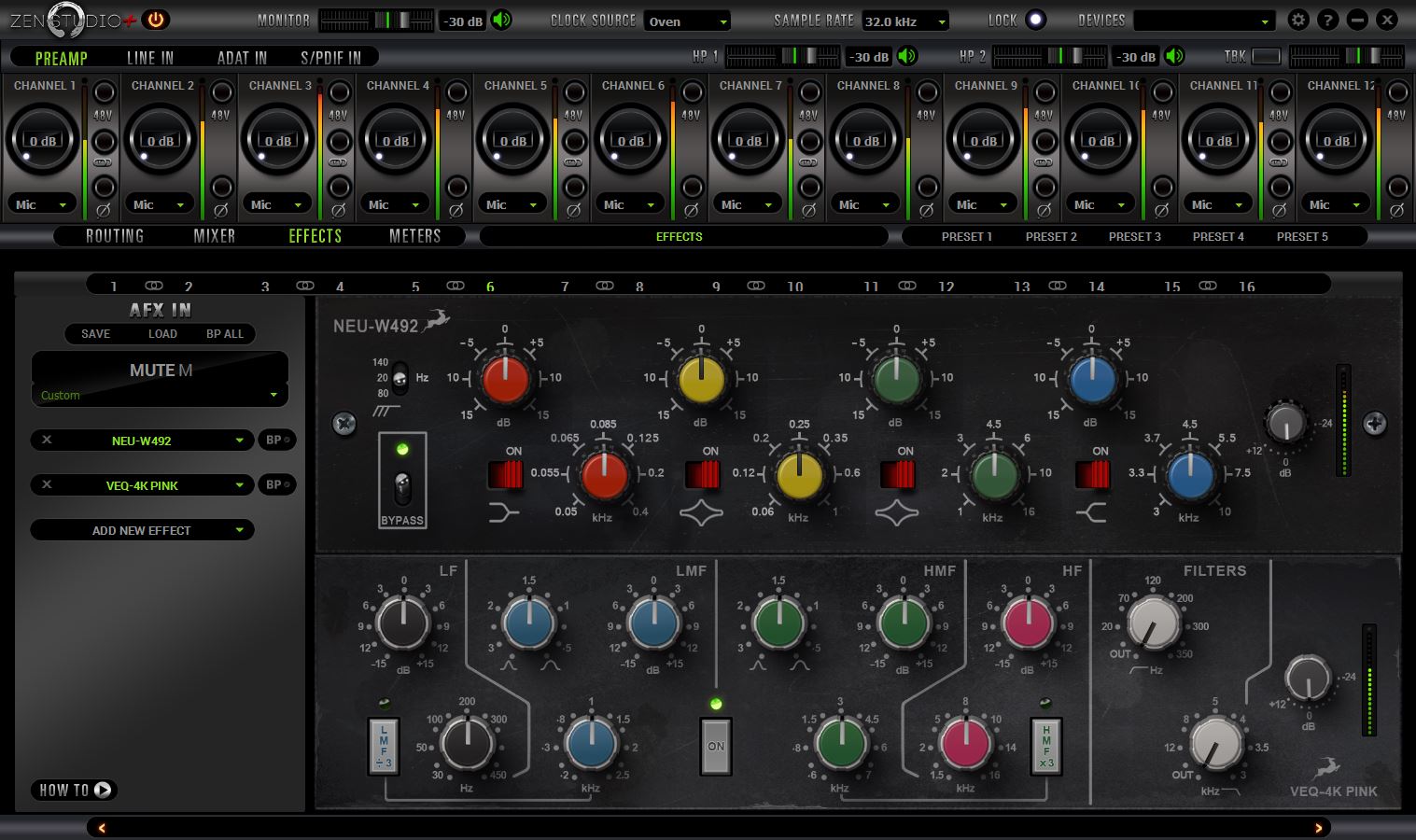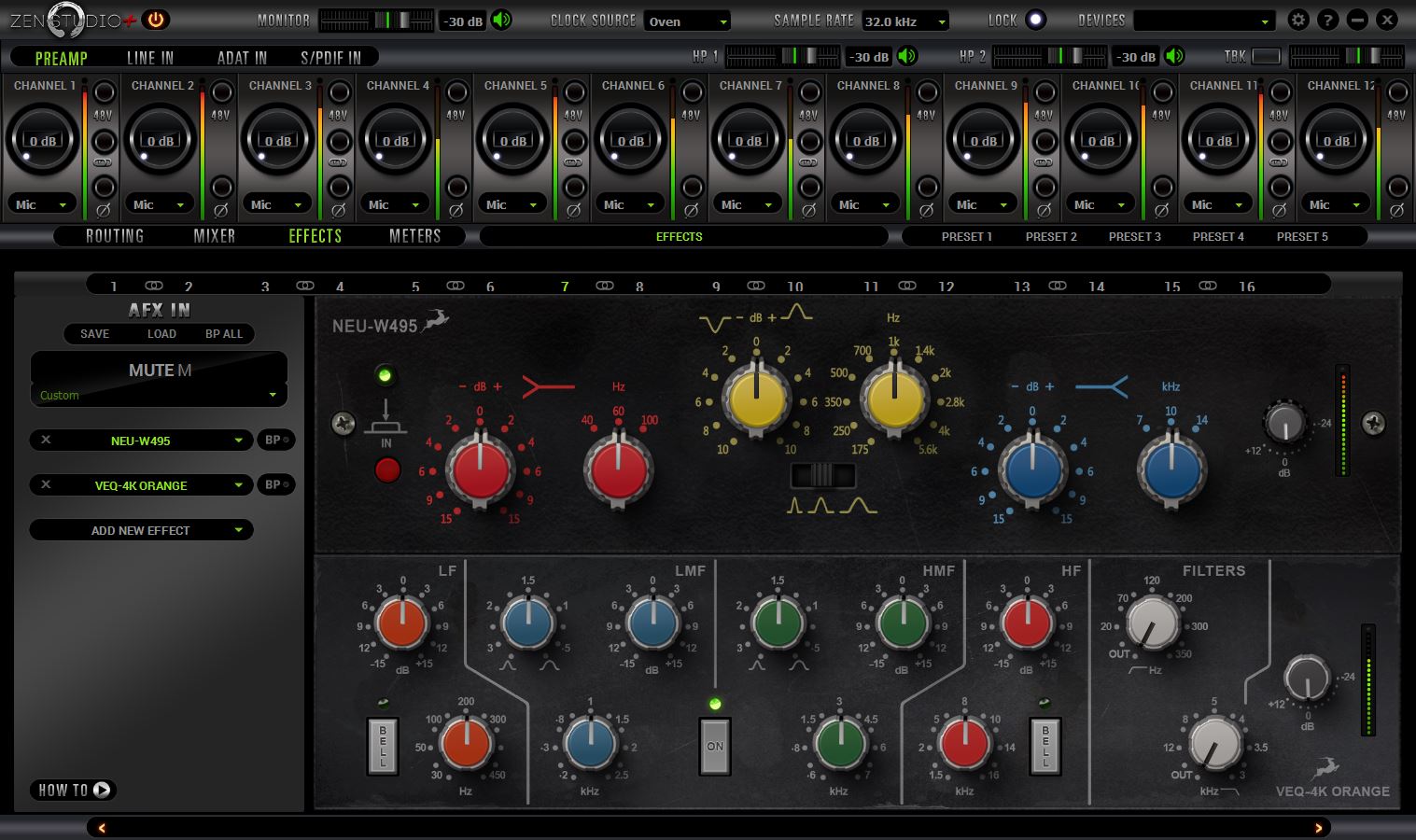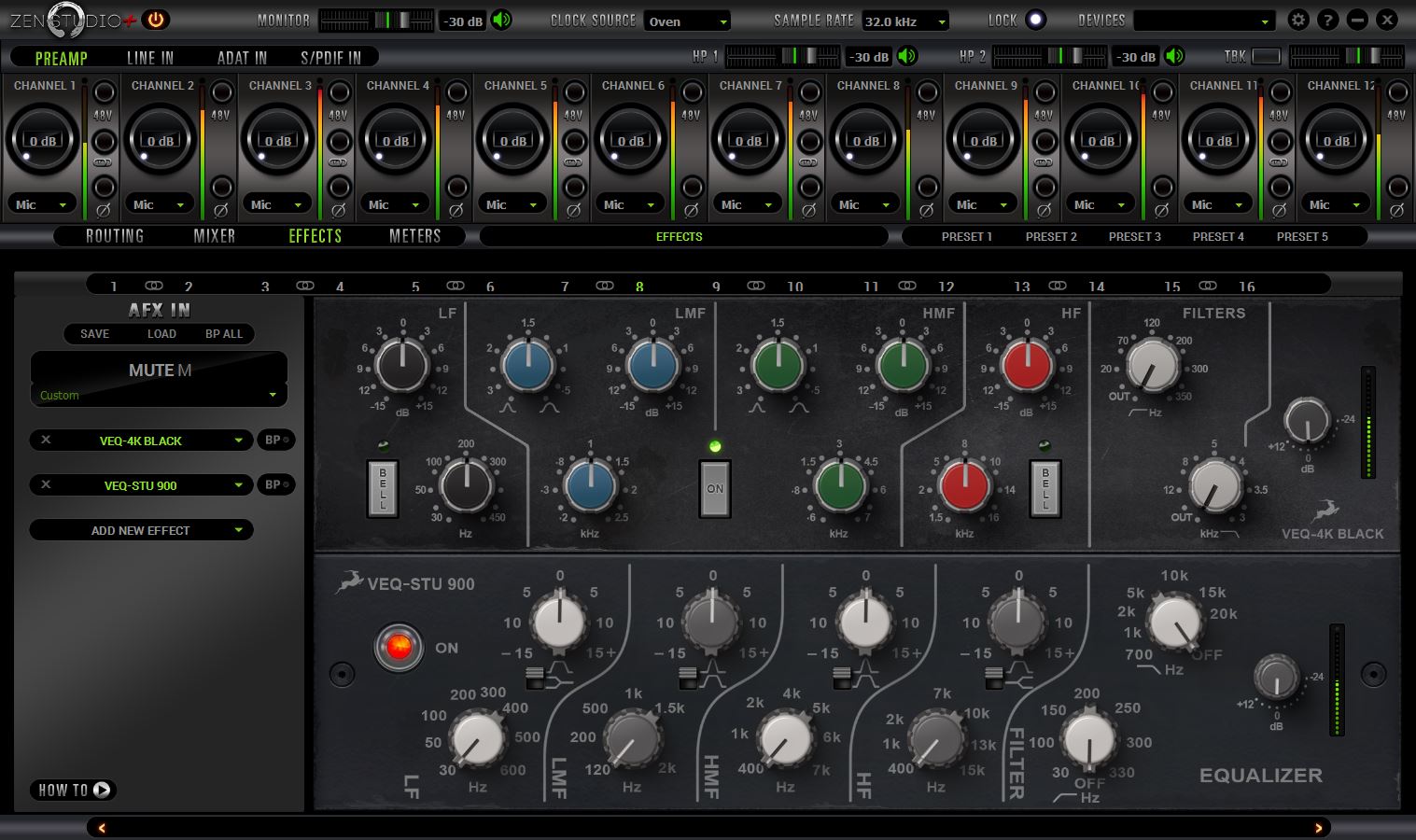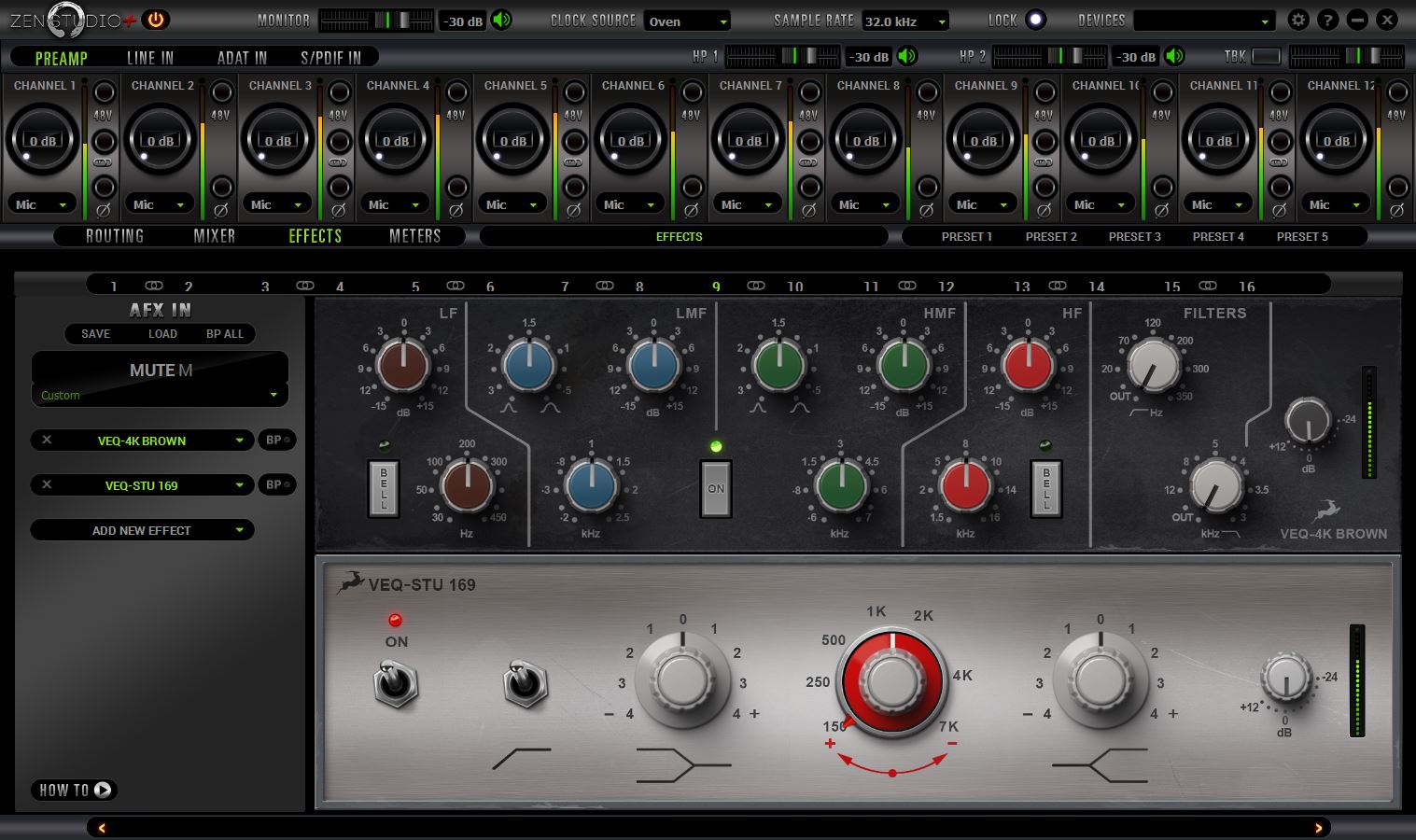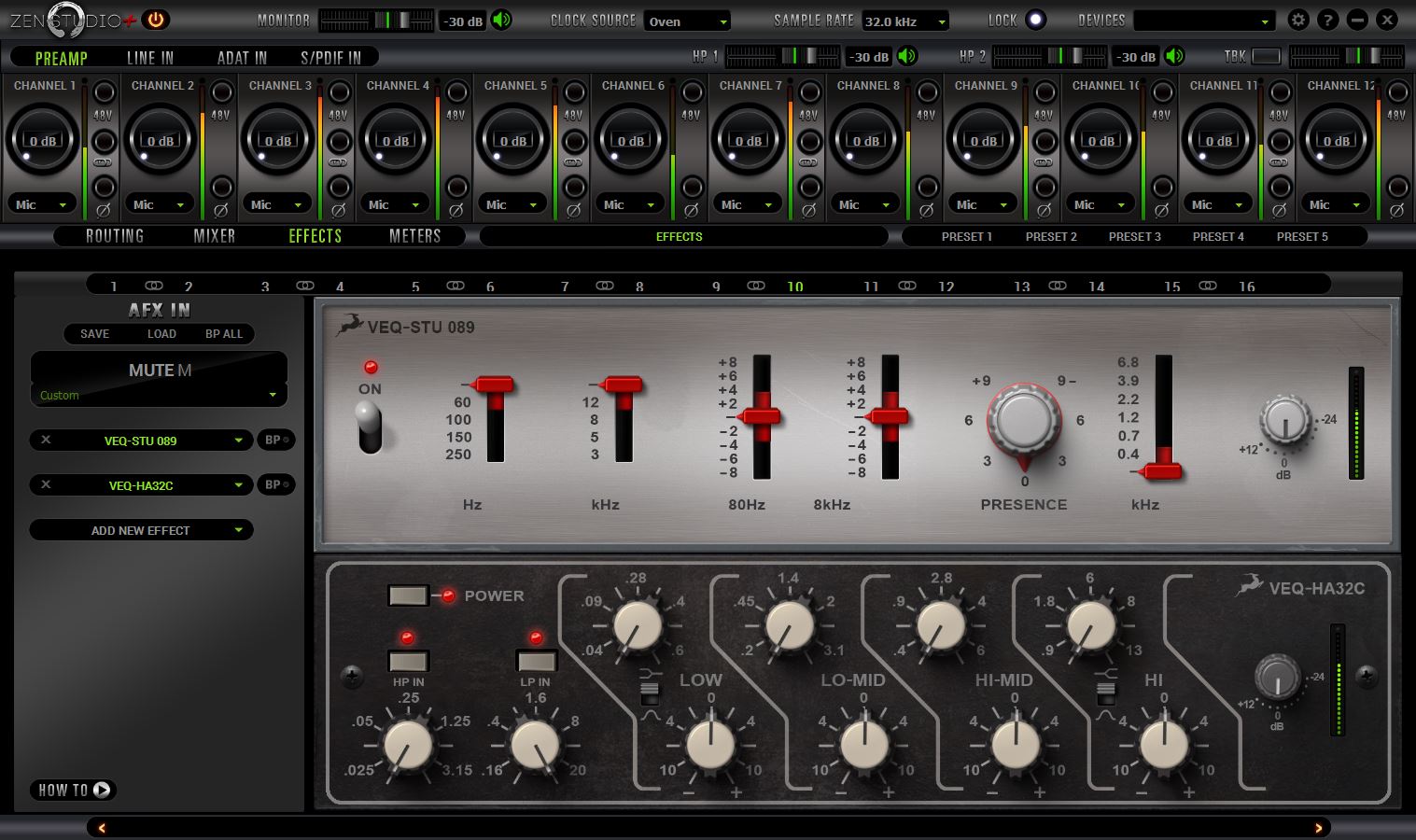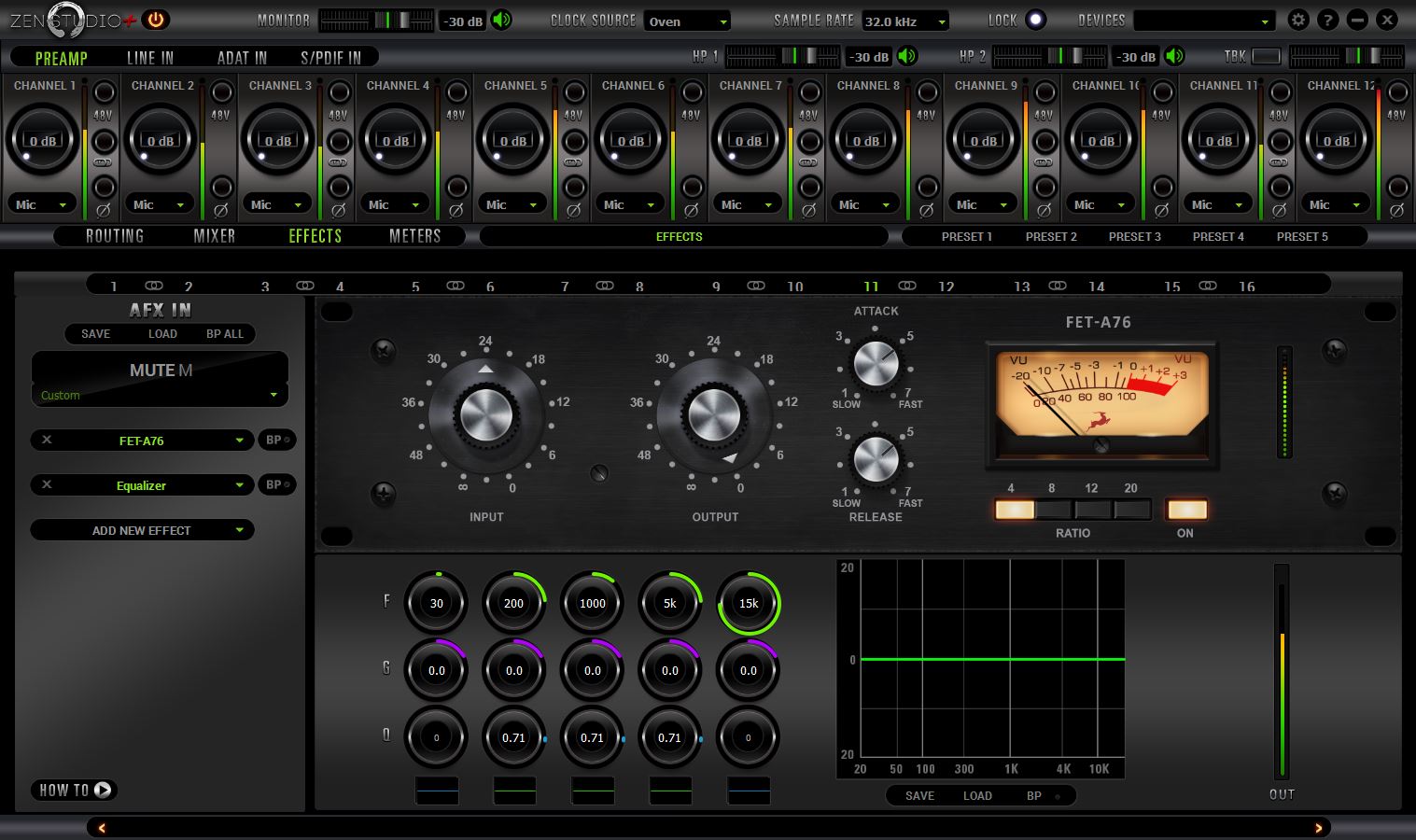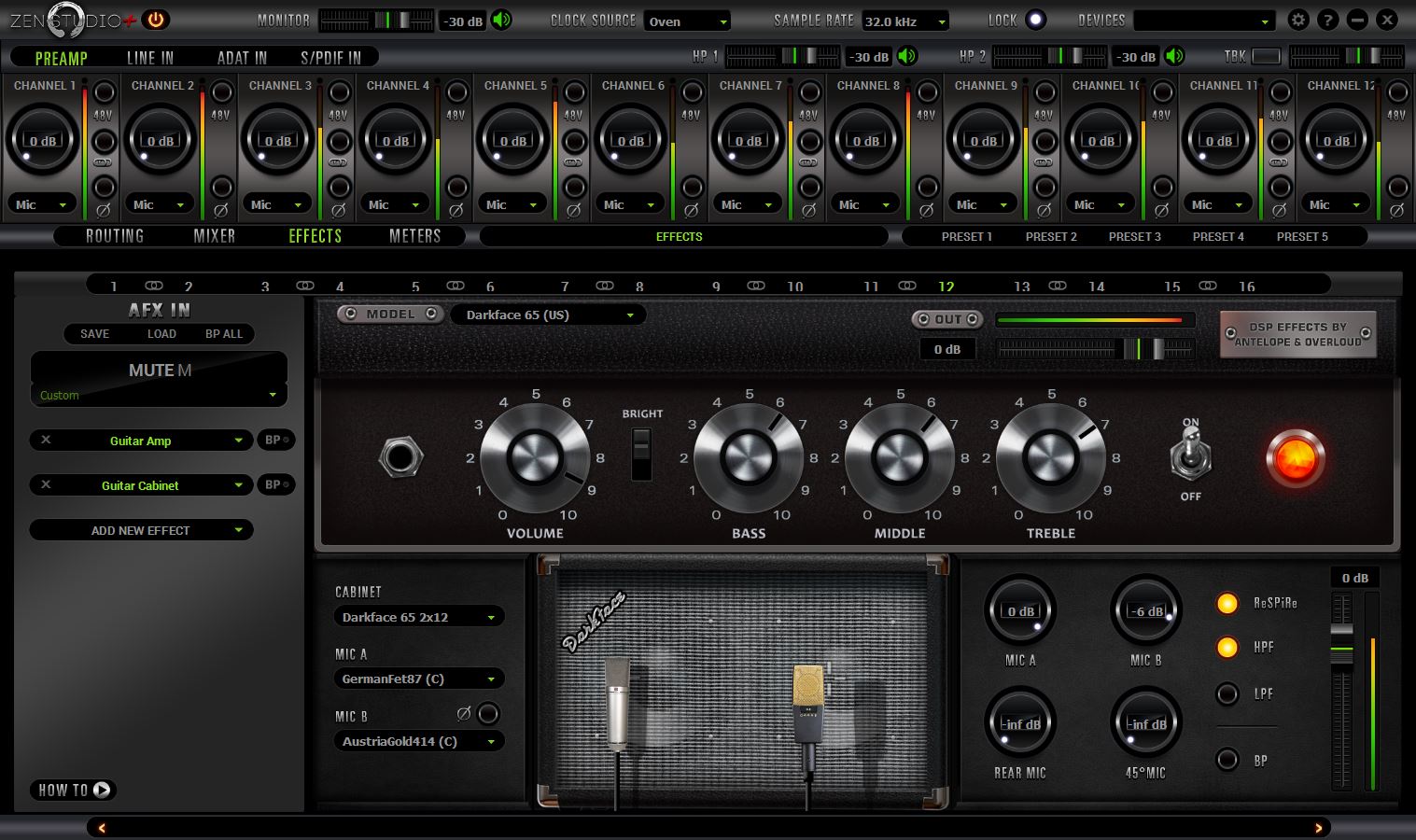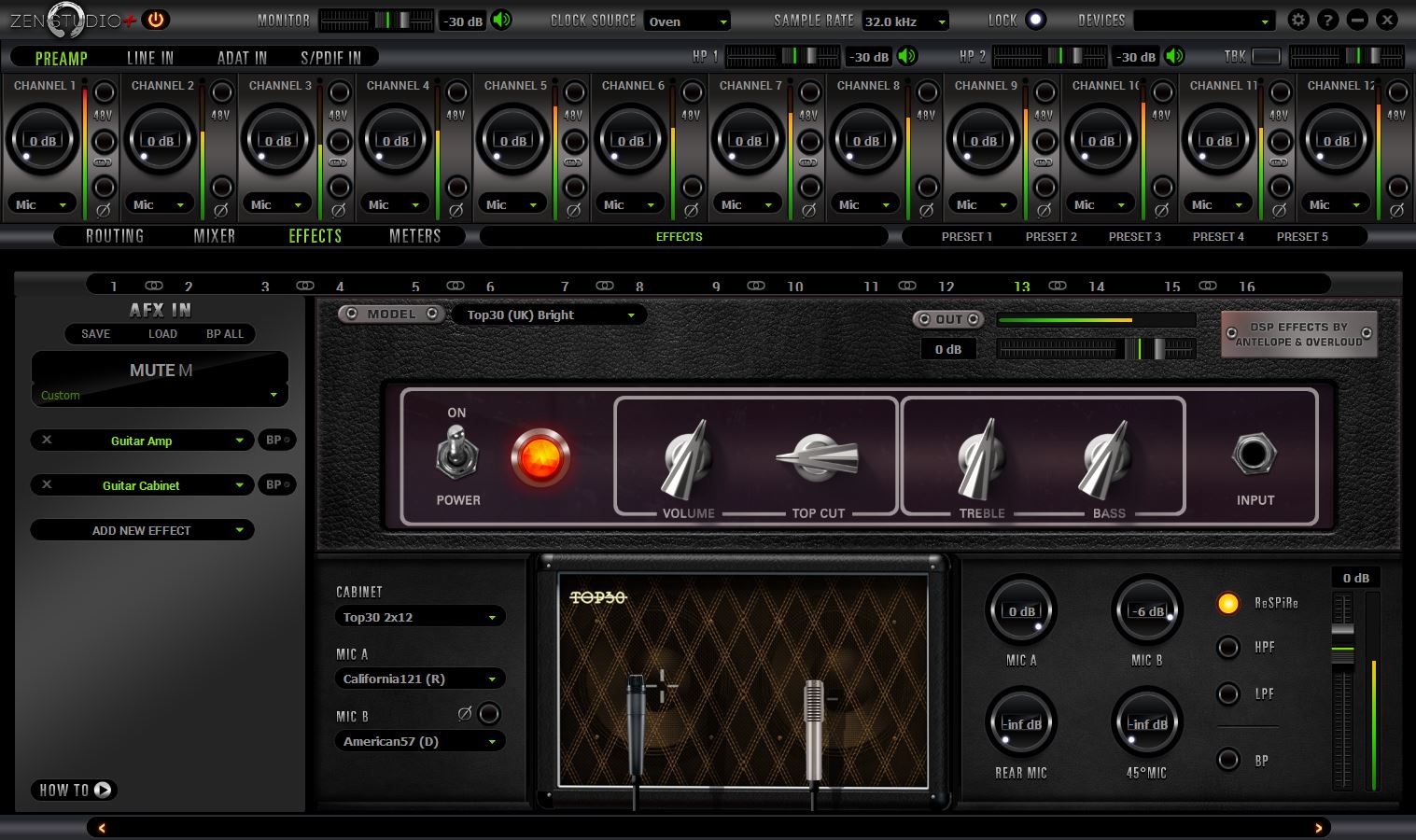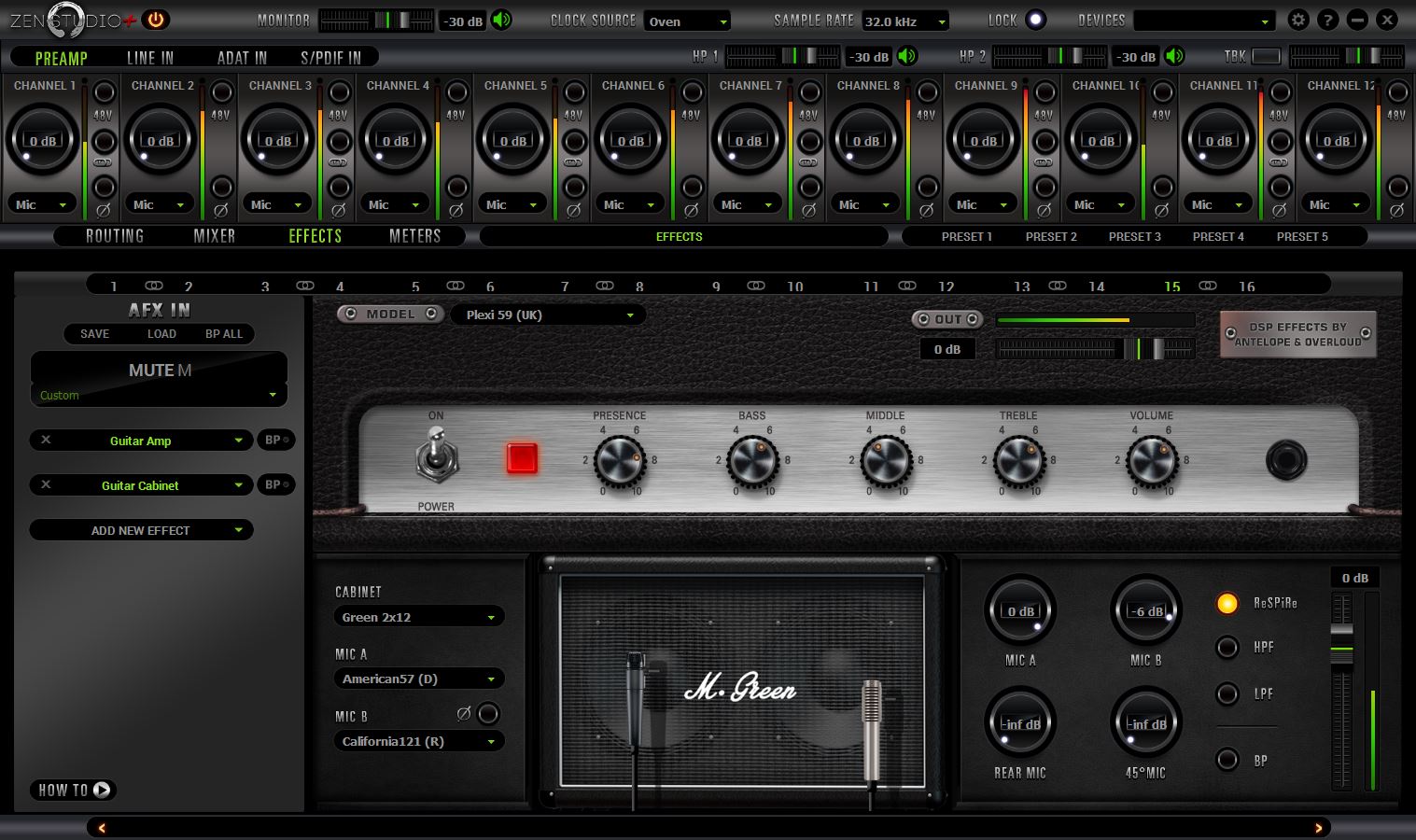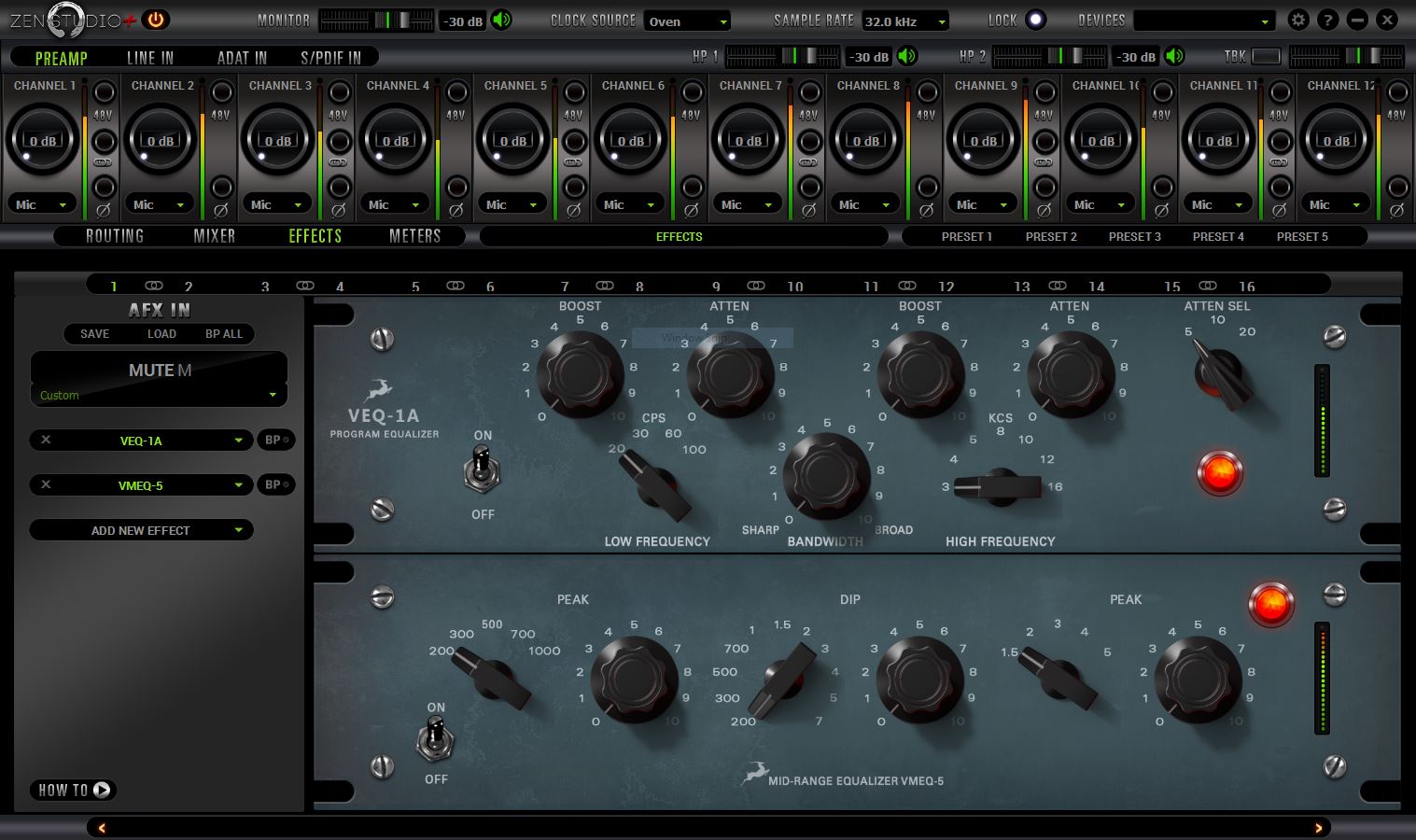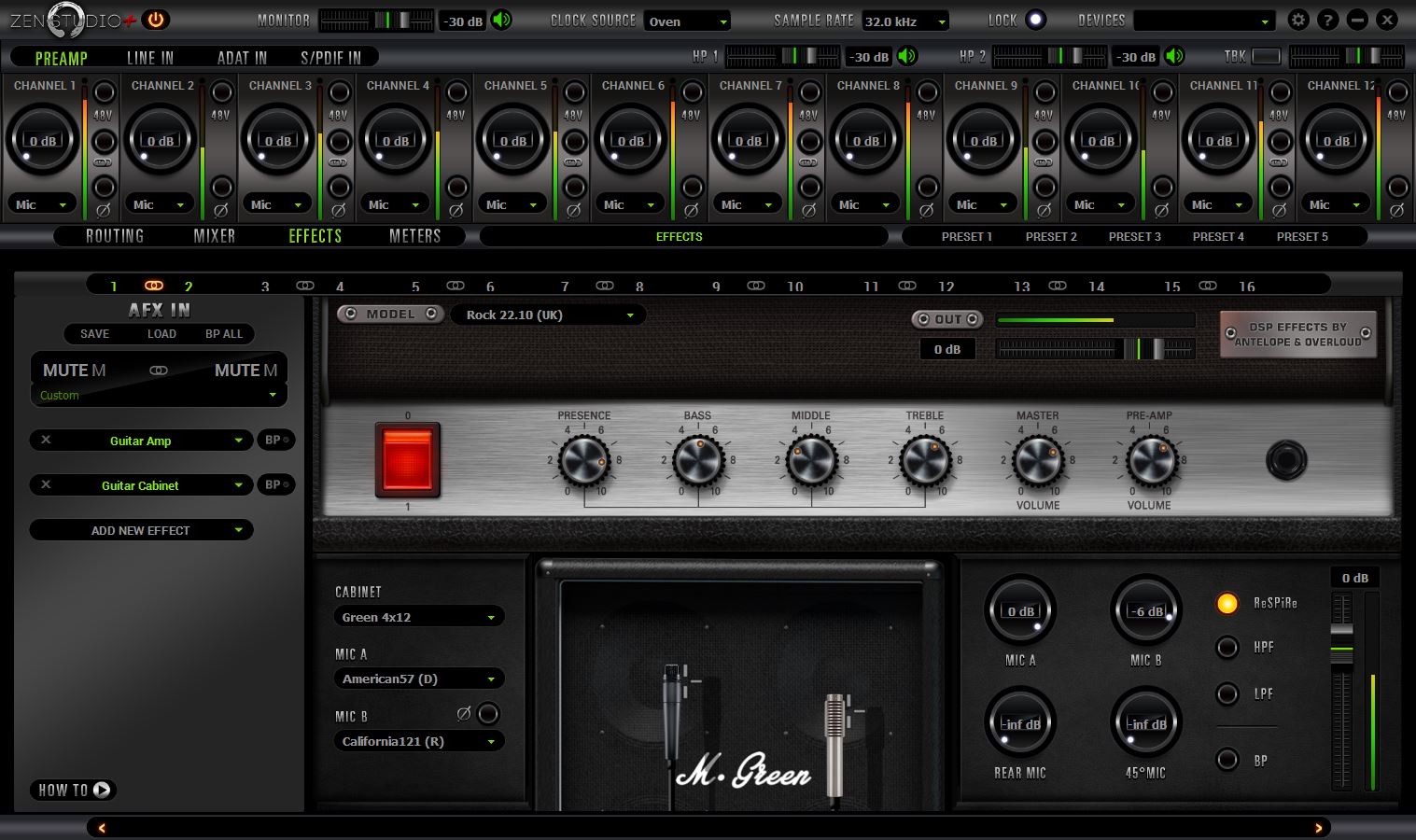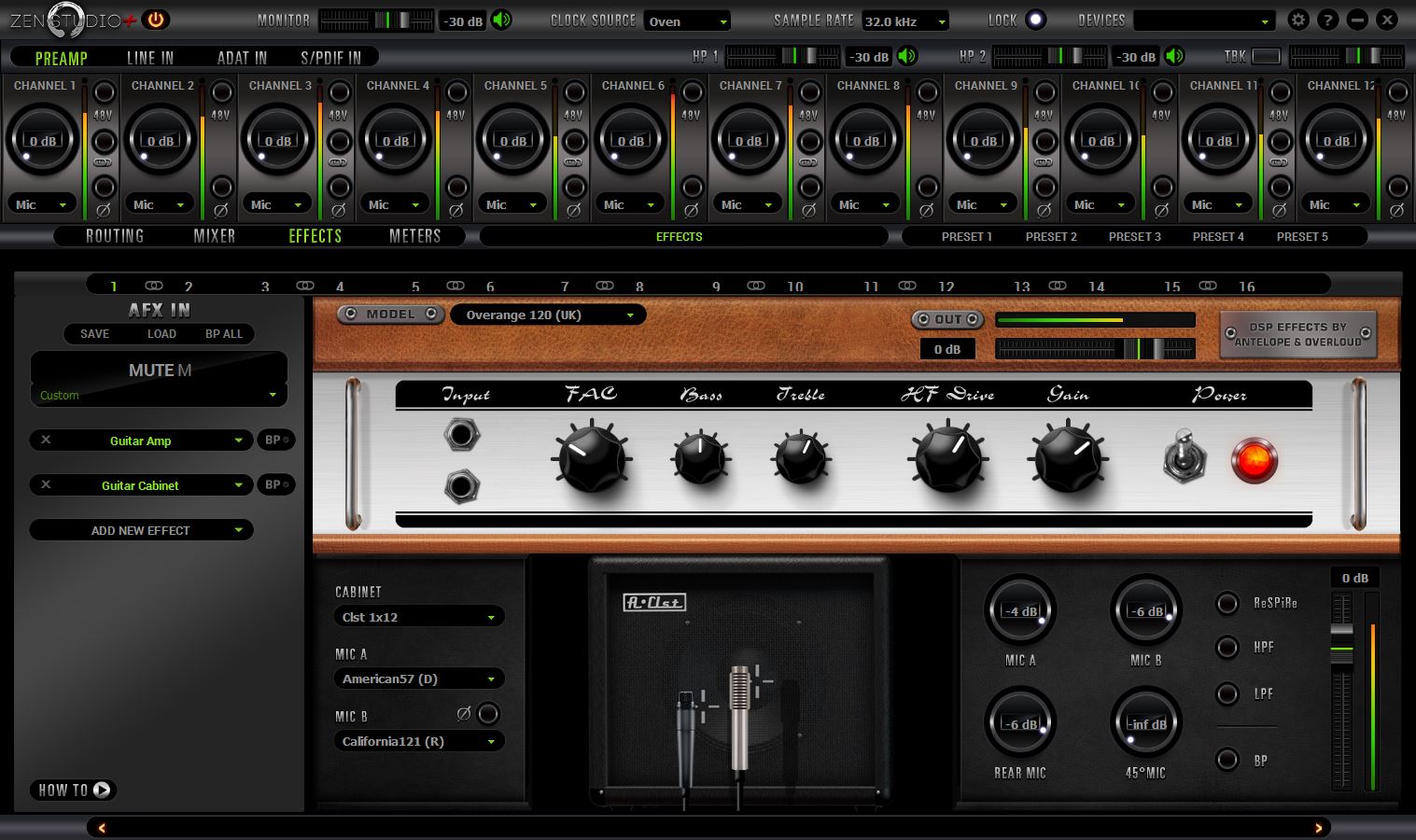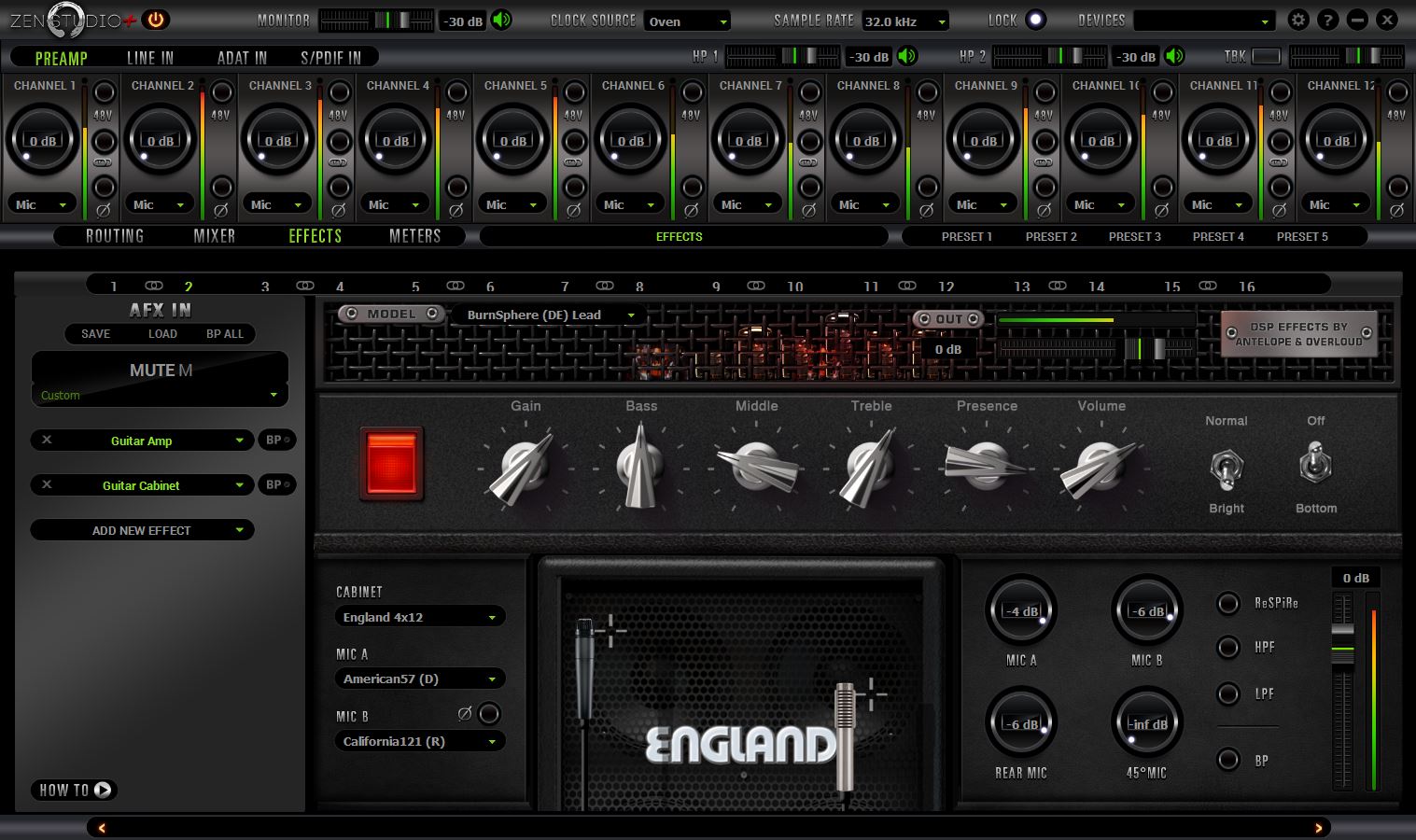 POTENCIA UNIDA A MOVILIDAD
Interfaz portátil con Thunderbolt™ y USB con 12 previos de micro
Zen Studio+ es el sucesor de Zen Studio, la interfaz portátil profesional de Antelope primera en su género. Su amplia conectividad analógica y digital, con 12 micros de previo de primera clase y la sincronización característica de Antelope, vienen ahora acompañados de una biblioteca de efectos basados en hardware en constante evolución. Con conectividad para Thunderbolt™ y USB, Zen Studio+ es el sistema de grabación móvil de gama alta más versátil que además es capaz de convertir cualquier ubicación en un estudio profesional de grabación.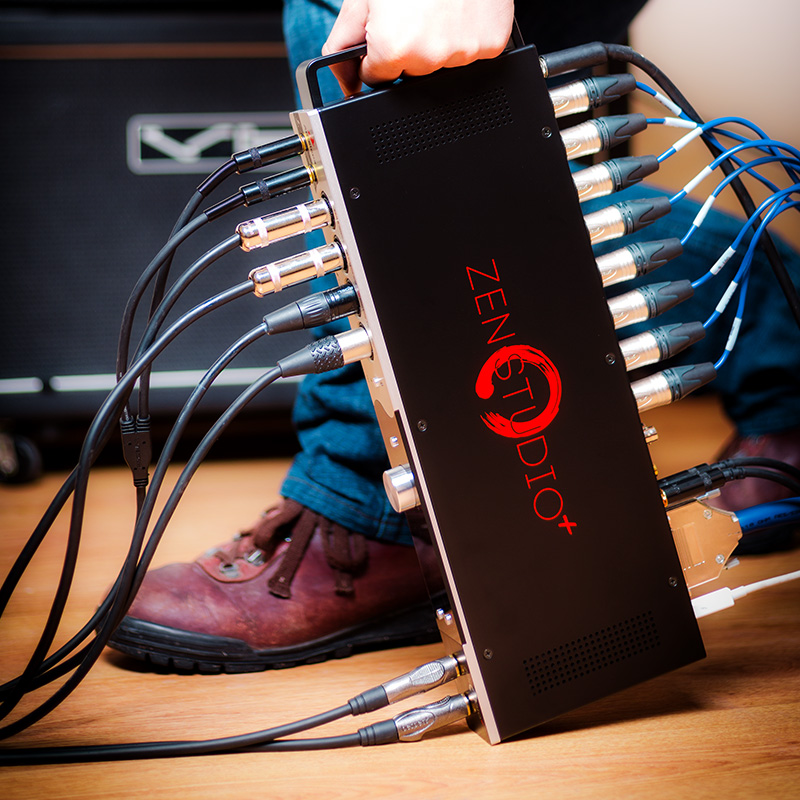 12 MICROS DE PREVIO CON CALIDAD DE ESTUDIO
12 previos de micro de primera clase, entradas de Hi-Z, micro y línea con alimentación phantom
POTENTE FPGA
Una FPGA personalizada para múltiples mixers que procesa efectos en tiempo real
CONECTIVIDAD AMPLIADA
20 entradas analógicas, 2 salidas de monitor, 8 salidas de línea DB25, ADAT, S/PDIF, 2 salidas de reamp, 2 salidas HP
SINCRONIZACIÓN SUPERIOR
Tecnología AFC de 64-BIT incorporada, salida de Word Clock, entrada de Word Clock y reloj atómico
TALKBACK INTEGRADO
Talkback controlable desde el panel frontal con apps para IOS/Android
SOFTWARE DE CONTROL
Enrutamiento, mezcla y procesamiento de efectos en tiempo real a través de una app compatible con OS X y Windows
FPGA POTENTE
Reinventa el flujo de trabajo de tu estudio con la cada vez más numerosa biblioteca de efectos de Antelope
No solo podrás crear y controlar múltiples mixers en tiempo real, sino que también podrás emplear el sonido de los legendarios clásicos de hardware para el estudio, mientras trabajas exclusivamente por ordenador.
Las exquisitas colecciones de ecualizadores vintage incluyen modelos auténticos de Lang PEQ1, BAE 1073, 1084, 1023, UK69 y muchos otros equipos clásicos vintage británicos y alemanes. Los compresores vintage comienzan con el modelo casi real del FET76 y pronto estarán disponibles muchos más, GRATIS para todos los usuarios nuevos y ya registrados de la cada vez más numerosa línea de interfaces de primera clase de Antelope.

"

…it looks great, sounds fantastic, feels reliable and solid — everything a high end piece of studio gear should be"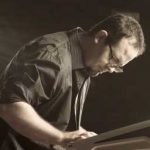 Matt Vanacoro, one of New York's premier musicians, he has collaborated as a keyboardist in studio and on stage with artists such as Jordan Rudess (Dream Theater), Mark Wood (Trans-Siberian Orchestra), Mark Rivera (Billy Joel Band), Aaron Carter and many more.
¡ideal para ARTISTas!
El Zen Studio+ es perfecto para cualquier profesional que trabaje sobre la marcha
La interfaz tiene una función integrada de Talkback, que permite comunicarse fácil y rápidamente entre los artistas que están grabando, el ingeniero y el productor. El Zen Studio+ ofrece salidas de reamp dedicadas, que le convierten en la opción perfecta no solo para los que se desplazan para grabar y los artistas viajeros, sino también para los guitarristas profesionales.
Los usuarios pueden crear hasta cuatro mezclas independientes en tiempo real, que se pueden asignar a cualquier salida, incluyendo las dos salidas independientes para auriculares, o las salidas de monitor o línea, gracias a la matriz de enrutamiento patentada por Antelope.
ZEN significa que tú tienes el control
Accede a todas las características de Zen Studio+ a través de la app para ordenador y móvil
El Zen Studio+ se puede controlar por completo desde el intuitivo programa de ordenador para PC y Mac, que ofrece un enrutamiento flexible de la señal y presintonías personalizables.
La aplicación para IOS/Android es un control remoto que permite ajustar los niveles de ganancia de los previos de micro desde cualquier lugar del estudio, ideal para controlar los niveles de micro desde la misma fuente del instrumento.

"

… it reacts right away, it shows exactly what you're doing at the moment, there's zero latency. And it's a beautiful thing."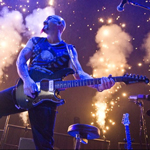 Michael "Fish" Herring. An accomplished musician, Fish toured the world with artists from the unknown to the legendary. He has also appeared on records for artists such as Mariah Carey, Tupac, Nas, LeAnn Rimes, Siedah Garrett, Celine Dion and other superstars, as his discography continues to grow.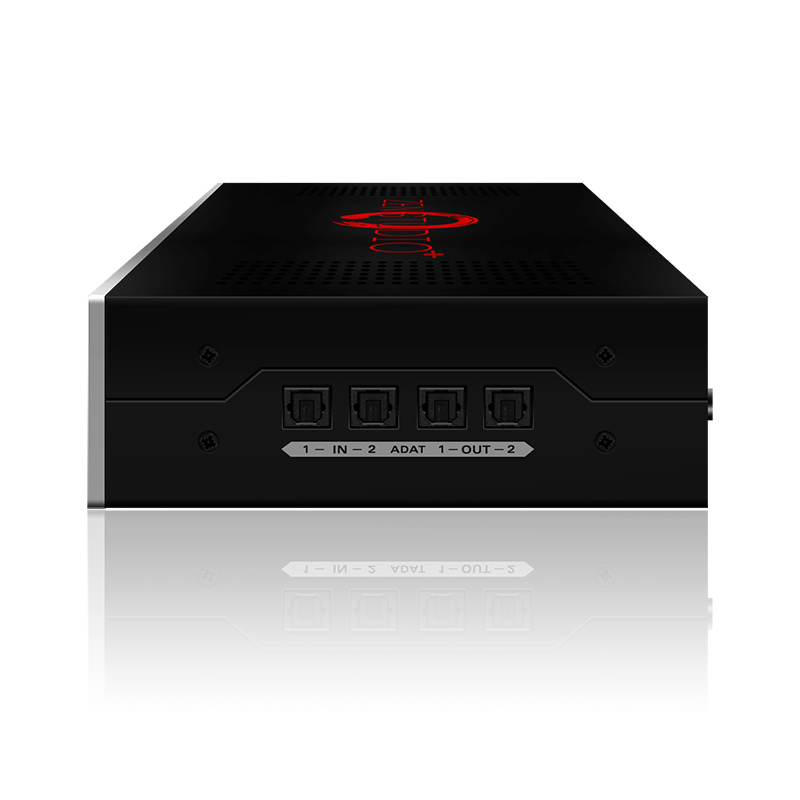 sincronización como nos gusta
Sonido perfecto gracias a una sincronización impecable
La insuperable precisión del Zen Studio+ la proporciona la afamada tecnología de gestión de la fluctuación con sincronización acústicamente enfocada (AFC) de 64 bits de Antelope. Los transitorios brillarán como nunca y conseguirás una imagen estéreo con una profundidad y detalle incomparables. Además de unas frecuencias altas dispersas y cristalinas… Así es, estamos hablando de la perfección sónica, tal y como sucedió con nuestros relojes maestros OCX HD y Trinity, que cambiaron las reglas del juego.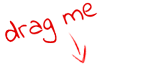 2 x Reamp Outs
These direct outputs should be used with guitar amplifiers for reamping
4 x Intrument/Mic Preamps/Line Inputs
4 Class A mic preamps with phantom power over Combo input with switchable line/ Hi-Z input
TalkBack Button
The talkback microphone can be distributed to the selected headphones and/or monitors using the software control panel or the touchscreen
Power Button
Toggles standby/operation state. Clicking and holding for two seconds allows you to enter sub-menu of the device
Rotary Control
Large stepped attenuator for headphone volume and main out volume
Display
Multi-function display that can scroll (using the 2 option buttons (6) to the right) through five different option screens
2 Option Buttons
Two option buttons allow you to scroll up and down between five different option screens
2 Headphone indicator lights
These lights are illuminated to indicate which headphone outputs are active
Headphone Outputs
Two independently assignable headphone outputs, selectable and controllable via the main volume control knob
48V Indicator light
Displays when phantom power is enabled at any of the inputs

USB High-Speed
1 USB connector Type B and operates up to 192kHz sample rate with Antelope ASIO on Windows & Mac OS X
DC Power Connection
For use with Antelope's DC power supply only
ThunderboltTM port
Enables you to connect your Zen Studio+ to a ThunderboltTM port on a Mac computer using a ThunderboltTM cable (not included)
D-SUB 25pin TASCAM Analog Outputs
A connector enables you to attach breakout cables, each with 8 lines
D-SUB 25pin TASCAM Analog Inputs
A connector enables you to attach breakout cables, each with 8 lines
Main Stereo Monitor Outputs
Assignable unbalanced stereo output
S/PDIF Input/Output
75 Ω S/PDIF inputs for use with compatible equipment
Word Clock Output
1 Word Clock Output with a BNC connector
Word Clock & Atomic Clock Input
BNC connector used to receive Word Clock reference.
8 Line and Mic Preamp Inputs
8 Class A mic preamps, with phantom power over combo XLR.
AD Inserts
Two ¼" TRS insert points (L & R) for connecting analog gear such as dynamics processors or EQ's, just before the A/D conversion

ADAT Inputs and Outputs
2 Inputs & 2 Outputs (up to 8 channels per line)
ANALOG

Analog Inputs

• 1 × DB25 (8 channels)
• 4 × Mic / Line / Hi-Z on XLR combos on the front
• 8 × Mic / Line on XLR combos on the rear

Analog Inserts

2 × Inserts on 1/4″ TRS (dedicated for inputs 1, 2)

Analog Outputs

• 1 × DB25 (8 channels)
• 1 × Stereo pair of Monitor outs on 1/4″" TRS
• 2 × Stereo Headphone outs on 1/4″" TRS (4 channels)
• 2 × ReAmp outs on 1/4" TRS

D/A Monitor Converter

Dynamic Range: 118dB
THD + N: -98dB

A/D Converter

Dynamic Range: 120 dB
THD + N: -110 dB

D/A Converters

Dynamic Range: 118 dB
THD + N: -105 dB

Mic Preamp

Gain: 0,10 – 65 dB
THD + N: -108 dB
DIGITAL

Digital Inputs

• 2 × ADAT (up to 16 channels)
• 1 × S/PDIF

Digital Outputs

• 2 × ADAT (up to 16 channels)
• 1 × S/PDIF

USB I/O

USB 2.0 Hi-Speed;
Data stream up to 480 Mbits/192kHz, 24 channels I/O, Type B

Thunderbolt™ I/O

1 x Thunderbolt™, 32 channels I/O
CLOCKING

Word Clock Input

1 x Input @ 75 Ohms 3Vpp on BNC 32 – 192kHz

Word Clock Outputs

1 x Outputs @ 75 Ohms 3Vpp on BNC 32 – 192kHz

Clocking System

• 4th Generation Acoustically Focused Clocking
• 64-bit DDS
• Oven Controlled Crystal Oscillator

Clock Stability

<+/-0.02 ppm, oven controlled at 64.5ºC/ 148.1ºF

Clock Aging

< 1 ppm per year

Clock Calibration

< +/-0.001 ppm

Sample Rates (kHz)

32, 44.1, 48, 88.2, 96, 176.4, 192
OTHER

Operating Temperature

0-50°C, 32-122°F

Weight

2kg / 4.4 lb (approx )

Dimensions (approx)

• Width: 418 mm / 16.5"
• Height: 45 mm / 1.8"
• Depth: 145mm / 5.7″

Electrical specs

DC Universal input: 18V
Power Consumption: 25 Watts Max

In the box

• Zen Studio+ Portable Audio interface
• Quick Start Guide
• Warranty Card
• 1 USB Cable
• 1 DC Power Adapter
WINDOWS
OS: Windows 7/8/8.1/10
Espacio libre en el disco: un mínimo de 512 MB disponibles en el disco
USB: 1 puerto USB 2.0
Ancho de banda USB necesario: 80%-90%
CPU: CPU Intel o AMD equivalente con al menos 2GHz de frecuencia operativa
Memoria (RAM): mínimo 4GB (se recomiendan 8GB o más)
MAC
OS X: 10.9/10.10/10.11/10.12 (se recomienda Sierra)
Espacio libre en el disco: un mínimo de 512 MB disponibles en el disco
USB: 1 puerto USB 2.0/3.0
Thunderbolt: 1 puerto Thunderbolt/USB-C
Ancho de banda USB necesario: 80%-90%
Memoria (RAM): mínimo 4GB (se recomiendan 8GB o más)
CPU: Intel Core 2 Duo (mínimo) Intel Core i3 ™ o mayor (recomendado)
Información adicional: conexión a internet necesaria para activar el producto.