Goliath
Interfaz de audio Thunderbolt™, USB y MADI
La interfaz de audio más poderosa del mercado
Goliath es el resultado de más de 20 años de experiencia de Antelope en audio digital, en tecnologías de sincronización innovadoras y en diseño de circuitería analógica, y ofrece el mayor número de E/S del mercado.
Las diversas conexiones a través de los velocísimos Thunderbolt™, USB o 2 x MADI, dotan a Goliath de un total de 36 entradas y 32 salidas analógicas, y proporcionan una claridad digital y un realismo analógico que no ofrece ningún otro interfaz de audio existente.
El interfaz de audio más poderoso de Antelope's viene equipado con multitud de efectos de audio basados en hardware, entre los que no faltan amplificadores retro de guitarra, reverbs AuraVerb, EQ legendarios y emulaciones de compresores, además, por supuesto, de nuestra mundialmente conocida tecnología de sincronización acústicamente enfocada.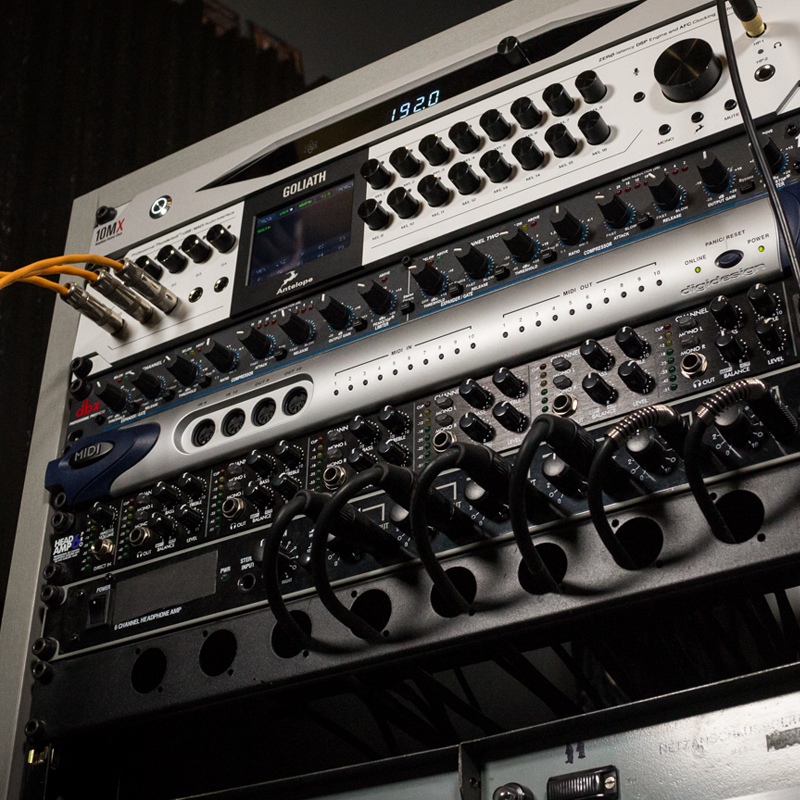 "

…it's tough to find an audio interface that offers this much connectivity and the sheer number of inputs and outputs of the Goliath"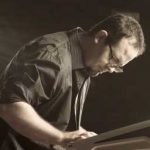 Matt Vanacoro, one of New York's premier musicians, he has collaborated as a keyboardist in studio and on stage with artists such as Jordan Rudess (Dream Theater), Mark Wood (Trans-Siberian Orchestra), Mark Rivera (Billy Joel Band), Aaron Carter and many more.
16 PREVIOS DE MICRÓFONO
16 previos de primera clase. Entradas de Hi-Z, micrófono y línea
LATENCIA CERO
64 canales de E/S, reproducción simultánea, procesamiento múltiple de mezclas y efectos
EFECTOS PROFESIONALES DE GUITARRA
Efectos basados en hardware para dar el siguiente paso en la emulación de amplificadores
CONVERSIÓN AD/DA CRISTALINA
Audio de 24-bit, 192 kHz y la característica conversión cristalina de Antelope Audio
SINCRONIZACIÓN ACÚSTICAMENTE ENFOCADA DE 64-BIT
Tecnología de 4ª generación de Antelope Audio para gestionar el jitter (aleteo)
CONTROL FÁCIL
Apps para ordenadores y dispositivos móviles, además de un panel frontal de control táctil
El sonido con el que siempre soñaste
Una sincronización perfecta y una circuitería analógica única hacen que el sonido profesional alcance nuevas cotas.
En Antelope Audio nos encanta decir: mejor reloj = mejor sonido.
Así que no sorprende que nuestra 4ª generación de algoritmos para la gestión de jitter con sincronización acústicamente enfocada (AFC) sea el responsable de la perfecta sincronía del Goliath. La interfaz de audio tiene el oscilador de cristal controlado por horno que ya conoces de los característicos relojes maestros basados en cristal de Antelope.
Para obtener más detalle y una mejor experiencia sonora, el Goliath también se puede sincronizar con la precisión extrema del reloj atómico de rubidio, 10MX, o se puede usar como reloj maestro de otros dos dispositivos que se conectan a través de salidas BNC de Wordclock.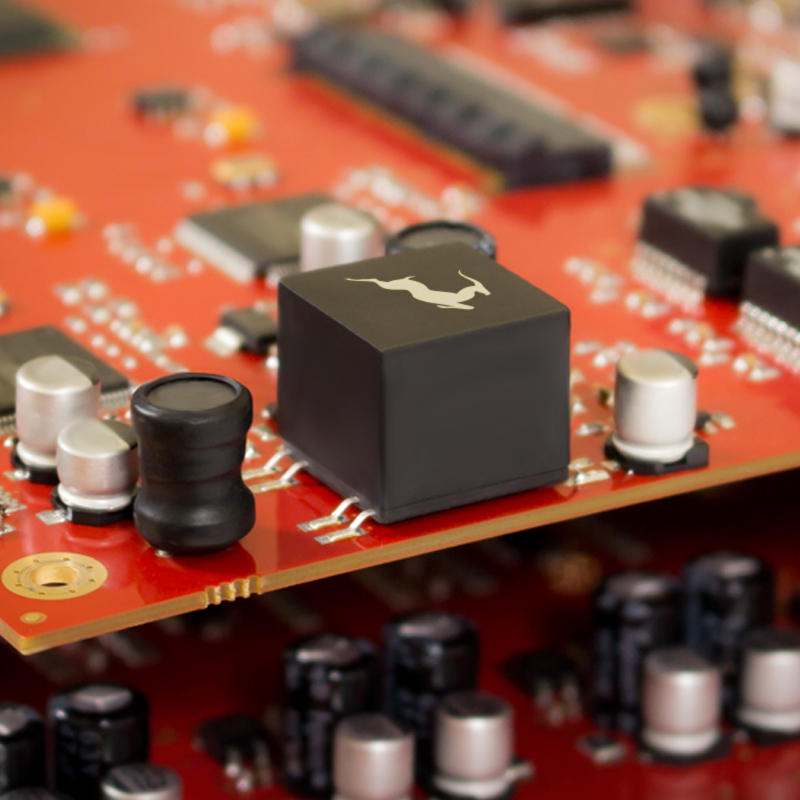 Procese varias mezclas de latencia cero
Obtenga una creatividad loca con los efectos personalizados basados en hardware de Goliath.
La nueva tecnología RealModel de Antelope recrea no sólo el verdadero sonido del clásico equipo analógico, sino también su comportamiento y sensación. Las pilas de efectos se pueden combinar en Cadenas FX personalizadas y guardarse como Preajustes.
Todas nuestras simulaciones de amplificadores de guitarra y cabinas se desarrollaron en una asociación con los líderes en software de guitarra Overloud Audio Tools, por lo que sabemos que los guitarristas simplemente amarán a Goliath.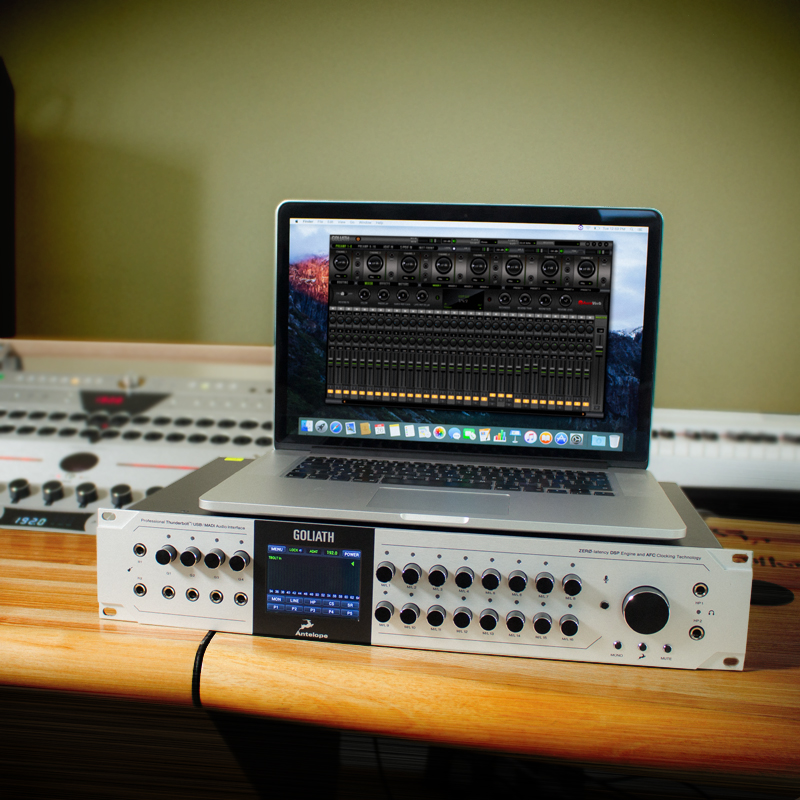 64 canales a través de Thunderbolt™
que pueden enrutarse a una amplia selección de E/S digitales o analógicas, entre las que se encuentran MADI, AES, ADAT y S/PDIF.
Goliath ofrece 36 entradas analógicas y 32 salidas analógicas con convertidores AD/DA cristalinos, entre las que se encuentran 4 magníficas DI para instrumentos, 2 salidas de transformador de reamp, 2 salidas para auriculares con Talkback integrado en la parte de adelante, 16 canales de previos de micro de primera clase, 2 pares de insertos de estéreo y un par de salidas para monitor en la parte de atrás.
Hay 24 salidas para conectores DB25 (1-8 para Surround Sound Mixing) y otras 16 entradas adicionales, lo que convierten a Goliath en la mejor solución para insertos de hardware y summing.
Se pueden añadir todavía más E/S analógicas si se conectan a través de MADI a los Orion32 o Orion32+ de Antelope, con lo que se obtendría un total de 64 canales simultáneos de E/S analógicos.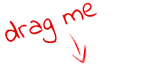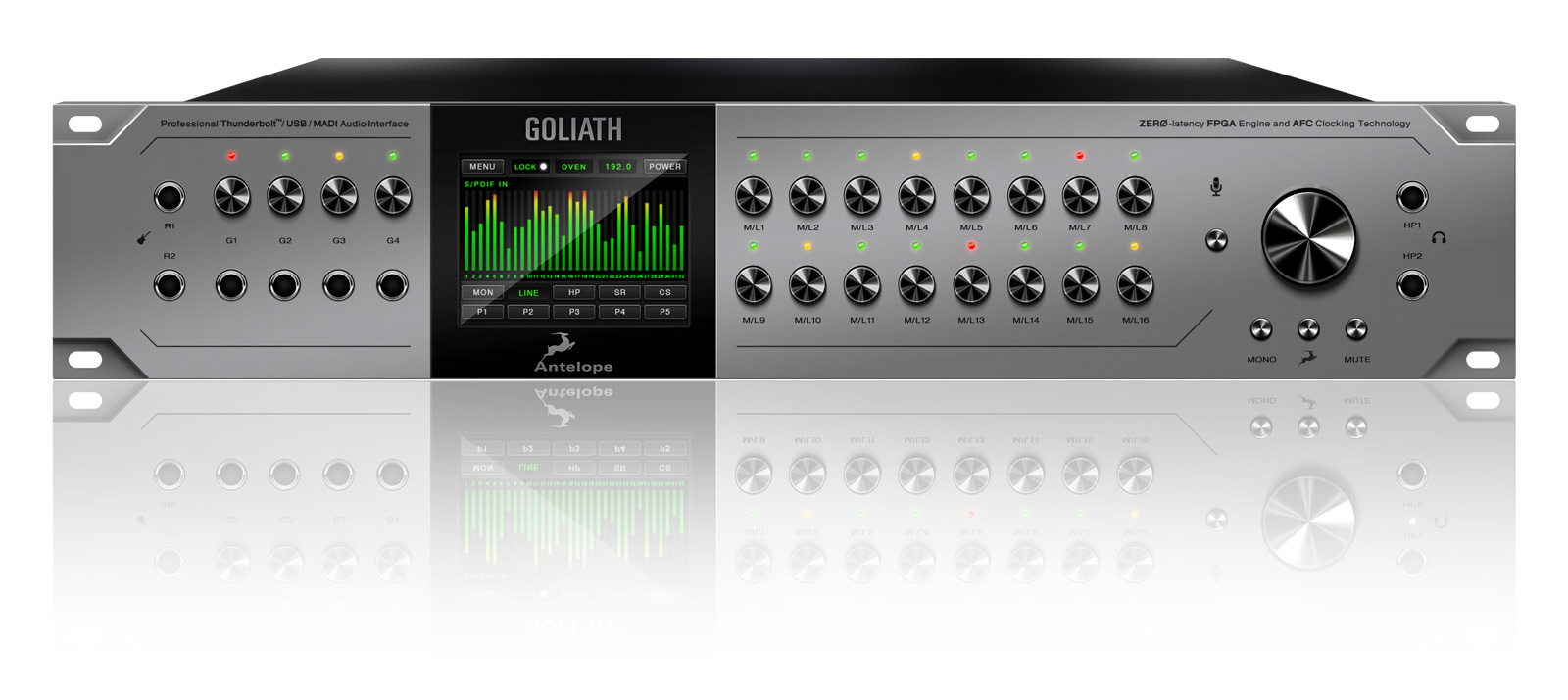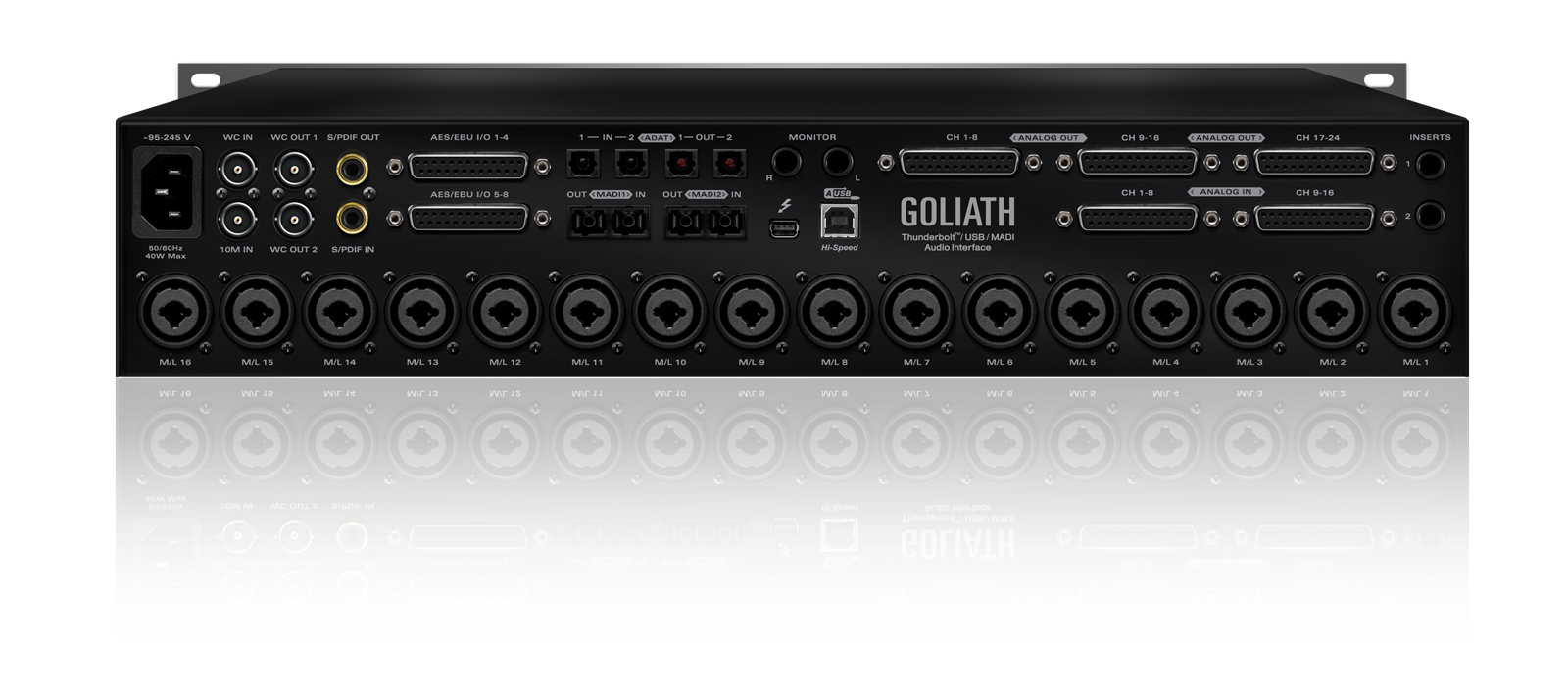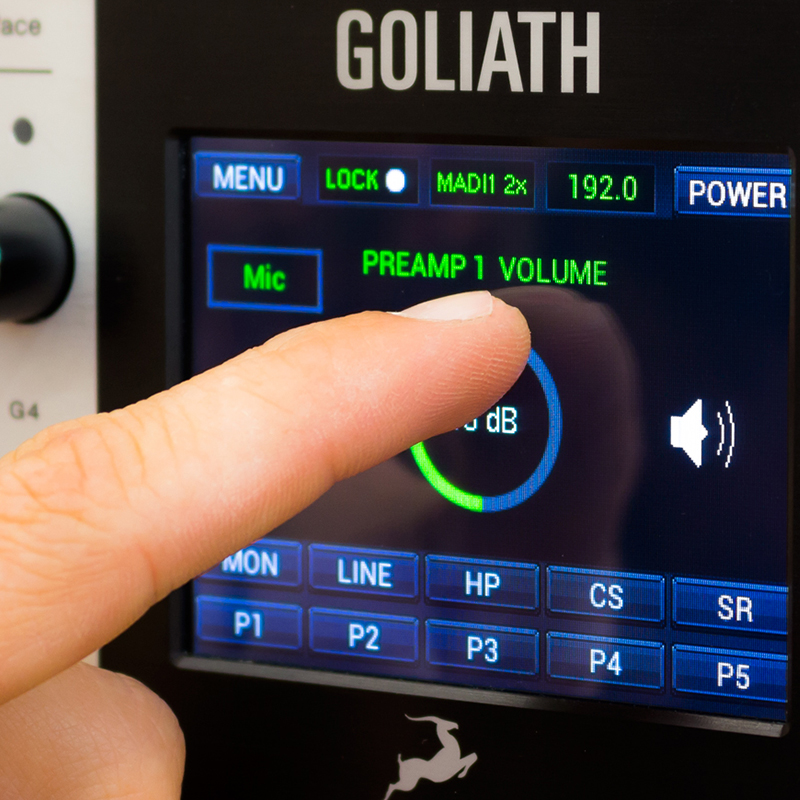 CONTROL TÁCTIL
Reinventa tu experiencia en el estudio con las opciones avanzadas de Goliath.
Se puede acceder a todas las funciones de Goliath a través de su intuitiva pantalla táctil de alta resolución. También se puede acceder a todas las funciones del interfaz de audio a través del Software de control compatible con OS X y Windows. El Goliath sigue el principio de control por red, como toda nuestra nueva gama de dispositivos, lo que significa que puedes acceder a todas las funciones de Goliath desde cualquier ordenador que esté en la misma red.

ANALOG

Analog Inputs
16 x Line inputs on two D-SUB 25, +20 dBu max, 11.2 kOhms
16 x Mic / Line universal inputs on XLR combos on the rear (first 4 can be used for instruments also)
4 x Instrument (HiZ) inputs on TRS 1/4 jacks on front
Analog Inserts
2 x Inserts on TRS 1/4 jacks (dedicated to rear universal inputs 1, 2)
Analog Outputs
24 x Line outs on three D-SUB 25, +20dBu, 56 Ohms
1 x Monitor out on 2x TRS 1/4 jacks
2 x Stereo Headphone outs on TRS
2 x ReAmp outs on TRS
D/A Monitor Converter
Dynamic Range: 129 dB
THD + N: -108 dB
D/A Converter
Dynamic Range: 120 dB
THD + N: -107 dB
A/D Converter
Dynamic Range: 120 dB
THD + N: -110 dB
Mic Preamp
Gain: 0, 10 – 65 dB
THD + N: -108 dB
DIGITAL

Digital Inputs
2 x Fiber Optic MADI (up to 64CH each)
2 x ADAT (up to 16CH)
8 x AES/EBU on D-SUB 25 (16CH)
1 x S/PDIF
Digital Outputs
2 x Fiber Optic MADI (up to 64CH each)
2 x ADAT (up to 16CH)
8 x AES/EBU on D-SUB 25 (16CH)
1 x S/PDIF
USB I/O
USB 2.0 Hi-Speed;
Data stream up to 480 Mbits/192kHz, 32 channels I/O, Type B
Thunderbolt™ I/O
1 x Thunderbolt™, 64 channels I/O
CLOCKING

Word Clock Input
1 x Input @ 75 Ohms 3Vpp on BNC 32 – 192kHz
Word Clock Outputs
2 x Outputs @ 75 Ohms 3Vpp on BNC 32 – 192kHz
Thunderbolt
Atomic Clock Input
1 x 10M Input @ 75 Ohms 1Vpp on BNC
Clocking System
4th Generation Acoustically Focused Clocking
64-bit DDS
Oven Controlled Crystal Oscillator
Clocking Stability
<+/-0.02 ppm, oven controlled at 64.5°C/ 148.1°F
Clock Aging
<1 ppm per year
Clock Calibration
<+/-0.001 ppm
Sample Rates
32, 44.1, 48, 88.2, 96, 176.4, 192 (kHz)
OTHER

Operating Temperature
0-50°C/32-122°F
Weight
6.8 kg/ 15 lbs (approx)
Dimensions (Approx.)
Width: 48 3mm / 19"
Height: 81 mm / 3.2"
Depth: 279 mm / 11"
Electrical specs
AC Universal input: ~95-245 V
Power Consumption: 40 Watts Max
In the box
Goliath – ThunderboltTM and USB AD/DA Interface
Owner's Manual
Warranty Card
1 AEC Power cable
1 USB cable
WINDOWS
OS: Windows 7/8/8.1/10
Disk Space: Minimum 512 MB available disk space
USB: 1x USB 2.0 Port
Required USB bandwidth: 80%-90%
CPU: Intel or AMD equivalent CPU with at least 2GHz operating frequency
Memory (RAM): 4GB Minimum (8GB or more Recommended)
MAC
OS X: 10.9/10.10/10.11/10.12 (Sierra Recommended)
Disk Space: Minimum 512 MB available disk space
USB: 1x USB 2.0/3.0 Port
Thunderbolt: 1x Thunderbolt/USB-C Port
Required USB bandwidth: 80%-90%
Memory(RAM): 4GB Minimum (8GB or more recommended)
CPU: Intel Core 2 Duo (Minimum) Intel Core i3 ™ or higher (Recommended)
Additional Info: Internet connection required for product activation.